Steven Camp MD Plastic Surgery & Aesthetics
3416 Lovell Avenue, Suite 200
Fort Worth, Texas 76107
Phone: (817) 228-4315
Fax: (817) 719-9323
Monday-Friday: 9 a.m.–5 p.m.

Bowtie Babes
When you are looking for plastic surgeons in Fort Worth, Texas, it's important to remember that you're choosing a plastic surgery practice, as well. At Camp Plastic Surgery & Aesthetics, you'll be cared for by a team of knowledgeable and friendly professionals who will welcome you into the #HappyCamper family. Our staff creates a relaxed efficiency that helps patients feel cared for, comfortable, and never rushed.
If you are considering aesthetic enhancement and want to learn more about board-certified plastic surgeon Dr. Steven Camp and his staff, request a consultation using the online form. You can also call our office at (817) 228-4315 to schedule an appointment.
At Camp Plastic Surgery & Aesthetics, we're kinda different. Meet Becky and Kelly, your Office BFFs, to learn more!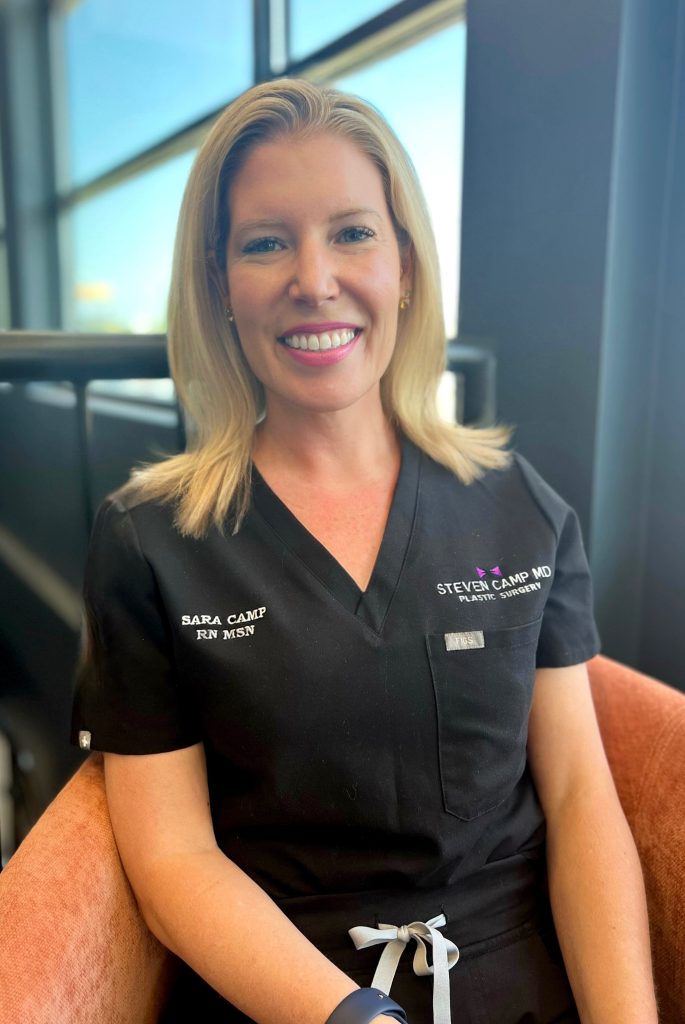 Sara Camp, Business & Marketing Director
Sara is an accomplished nurse practitioner with two master's degrees from the University of Pennsylvania and a Financial Accounting Certificate from Harvard University. She supports Dr. Camp and post-op patients in the clinic but spends much of her time managing the business and marketing side of Camp Plastic Surgery.
A Fort Worth native, Sara returned home after spending much of her adult life in Southern California, Kansas City, Philadelphia, Utah, and North Carolina (which is where she and Dr. Camp met.) She earned her bachelor's degree in nursing from Texas Christian University (TCU) and still proudly cheers for her beloved Horned Frogs. Sara then worked in the cardiac surgical intensive care unit at Duke University Medical Center before pursuing her master's degrees.
She spent 5 years working as an acute care nurse practitioner in the ICU of Carolinas Medical Center, focusing on optimizing surgical outcomes for the most serious cardiac surgery patients. In addition to quality improvement, Sara spent much of her time on clinical research and education. It was during this time that she met Dr. Camp, who was completing his surgical residency. The couple married 2 years later and moved to Salt Lake City, Utah, where Dr. Camp completed plastic surgery fellowship training at the University of Utah.
More recently, Sara worked for the American Heart Association as the National Director of Corporate Relations, Research, and Marketing. This job combined Sara's unique talents. After moving to Southern California, where Dr. Camp completed a prestigious aesthetic fellowship, the Camps moved to Fort Worth as Dr. Camp began his career in private practice.
Sara's connection to TCU will continue as she welcomes a newly commissioned course within the TCU nursing school "Aesthetic Nursing" where she will serve as Adjunct Faculty. With this course, she will precept TCU nursing students at Steven Camp MD Plastic Surgery and Modern Surgery Center to help students grow in their understanding of Aesthetic Nursing. This is the first collegiate level course of its kind and Sara and TCU are proud to offer this to local students.
In 2022 Sara was honored by Fort Worth Inc with the Entrepreneur of Excellence award. This award showcases outstanding entrepreneurs whose vision, creativity and integrity have made Fort Worth the premier place to do business. Specifically, award winners had to show ethical leadership and business practices, profit growth and community involvement. More recently the entire office was also honored as Best Companies to Work For 2023 by Fort Worth, Inc.
Sara is a recent Alumni of Leadership Fort Worth LeadingEdge program which has historically supported emerging leaders with an opportunity to strengthen their leadership practices, create connections with community leaders, and move beyond volunteerism to board service.
Most importantly, the Camps love raising their 2 children, Zoe and Winston, in Fort Worth and are active in the community. When Sara isn't at the office, she loves playing tennis, keeping active, hanging out with friends and their kids. She supports local businesses whenever possible and promotes them through Dr. Camp's social media platforms. Follow Sara on Instagram at @saracampplasticsurgerywife.
---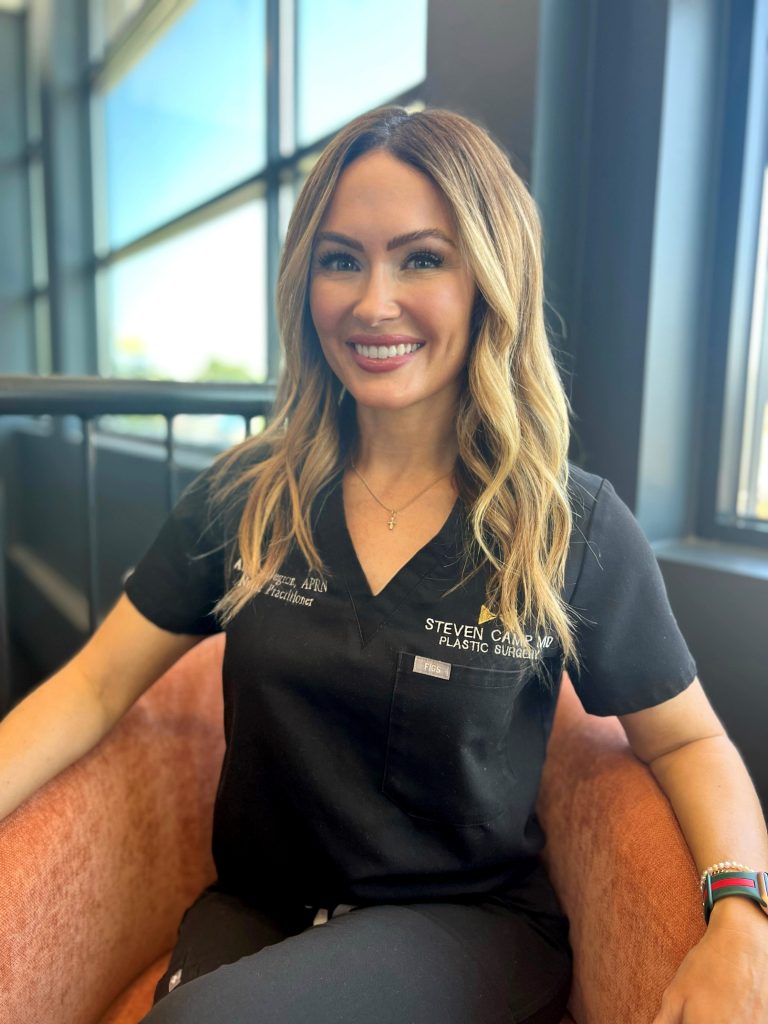 Angela Negron, Nurse Practitioner
Angela is an experienced nurse and nurse practitioner who joined our team in 2019. She began her nursing career in the ER and worked at a trauma facility for 7 years. During her time in the ER she realized she wanted to help patients in a more advanced capacity and decided to pursue her master's degree to become a nurse practitioner. She completed her studies and graduated from the University of Texas at Arlington and became a board-certified Family Nurse Practitioner.
Angela specializes in advanced laser resurfacing treatments such as Sciton Halo and profractional treatments, as well as aesthetic injections Botox, Dermal Filler, Kybella and more. She is an Allergan Medical Institute and Sciton Trainer.
Angela is married and has 3 boys. When not helping clients with their glow up, Angela loves to workout, be active outdoors, and spend time with her family.
Follow Angela on Instagram at @angela.negron_aesthetics_np.
---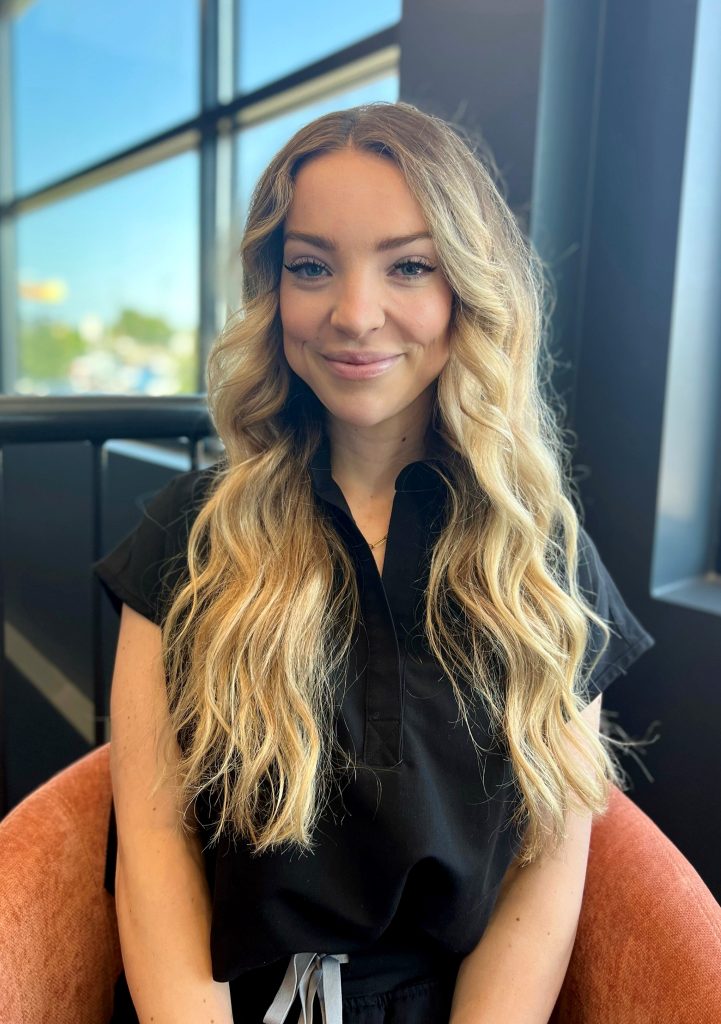 Kelly Sullivan, Clinical Nurse
Kelly joined our team in 2021 and brings a vast background and experience as a plastic surgery nurse. She meets with all of our surgical patients at their consultation and is the main point of contact throughout the preoperative and post-operative phases of a patient's surgical journey. Our patients quickly feel comfortable in her presence and she is always quick and eager to answer questions and concerns! Kelly's favorite part of patient care is being a part of the positive impact and transformation (both mentally and physically) that plastic surgery can make for our patients. We are so blessed to have such a kind, caring and detail-oriented nurse to assist Dr. Camp and to take care of our patients every step of the way.
Kelly was born and raised in the sunny state of California. Even though it may seem a bit bizarre for an Orange County girl, she grew up riding horses and found a passion in the sport of barrel racing. Kelly eventually found her way to Texas and earned her BSN degree from Baylor University. She has been a practicing Registered Nurse since 2016 and absolutely loves what she does! Kelly can honestly say she found her home here in the great state of Texas and never wants to leave!
Kelly has a precious little girl, Stevie, who is the absolute light of her life! Besides being a momma and loving on all our patients, Kelly loves spending time with her family… She is a huge daddy's girl. Also, if you are ever up for brunch, she is totally your gal!
---
Crystal Negron, Registered Nurse
Crystal joined our team at the end of 2021 as our newest Nurse Injector! She went to school at The University of Texas at Arlington and graduated in December of 2013 with a Bachelor's of Science in Nursing. Her first year as a nurse she worked on a step-down ICU, and then transitioned to the Emergency Department. She has spent the last seven years working at an adult and pediatric facility in the emergency room. Although Crystal is new to the aesthetic world, she is training under our amazing Nurse Practitioner, Angela. In just a few months, she has already become a wonderful provider and injector.
Crystal was born and raised in Fort Worth, Texas. She loves to travel locally and all over the world whenever she gets the chance. Crystal is a self-proclaimed "foodie" and loves exploring new places in the metroplex. She has a 10-year-old Beagle named Bella and recently adopted a 7-year-old Mini Australian Shepherd named Sally. You may have noticed her last name looks familiar… This is because she is Angela's sister-in-law! One of our favorite things about Crystal is her big smile and contagious laugh.
---
Lindsay Anderson, Aesthetician & Laser Technician
Her bright and bubbly personality shines through as she treats every patient, giving them the confidence to walk out of our practice proud. Patients say Lindsay is sweet and kind and immediately makes them feel comfortable. Her 'can do' attitude is such an asset to have on our team! You will find her always willing to take on a new project, continue education, learn new skills, and to help staff members with anything!
Lindsay was born and raised in California, where most of her family still lives. While she has always been a west coast girl at heart, she is setting new roots in Texas. Lindsay and her husband, Jack moved here a couple years ago and she absolutely loves Texas! When she had the opportunity to move here she jumped! She loves the friendly people and delicious southern food.
In her spare time, Lindsay loves to travel and visit her loved ones as much as possible. She and her husband enjoy spending their weekends exploring all that Ft. Worth has to offer….and a fun fact, she is an amazing cook! Lindsay is proud to be a part of the Bowtie Babes and loves calling Texas her new forever home.
Follow Lindsay on Instagram at @thefortworthfacialist.
---
Kristen Montgomery, Aesthetician & Laser Technician
Kristen became our non-surgical coordinator in 2019 and has over 10 years of providing exceptional patient care in the medical field with 6 of those years being in Plastic Surgery. While working full-time with a practice, she also went to school to get her Aesthetician and Laser Technician licenses and is now a provider for our non-surgical patients. She is well-versed and has extensive training with our skin care lines and can easily guide patients towards the best skin care regimen and treatments. She is committed to ensuring that our patients have the most comfortable and positive experience possible in our practice. Kristen's sweet and spunky nature is just a sampling of what makes her so special. She loves developing relationships with patients and witnessing their amazing transformations!
Kristen was born and raised in Fort Worth where she currently lives with her fiancé, Kyle. In her free time, she enjoys attending music festivals, activities with her friends and family, and snuggling with all three of her fur babies!
Follow Kristen on Instagram at @thegingeresti.
---
Becky Dukes, Surgical & Patient Care Coordinator
Becky was the first of the Bowtie Babes to join Steven Camp MD Plastic Surgery & Aesthetics back in 2017. She has enjoyed being here since the near beginning, collaborating in putting systems in place to enhance patient experience and helping the business side run smoothly. Becky loves being creative, resourceful and problem solving… the Bowtie Babes nicknamed her "techy Becky" for her ability to quickly find solutions to technical issues. Becky's favorite role is that of Surgical Coordinator, allowing her to join surgical patients on their journey from initial phone call, consultation in office, and finally to post op care. Becky had a tummy tuck with Dr. Camp in 2018 and loves to share her experience and pre and post-operative recommendations with our new patients… She is often found flashing her flat tummy and cute bellybutton to potential tummy tuck patients!
Becky feels that God has had his hand in every event leading up to her joining Dr. Camp's team, and says she has no doubt that Dr. Camp's office is where she is supposed to be. Before starting her career in plastic surgery, Becky worked in an orthodontic office for 10 years as dental assistant and then 8 years as front office coordinator. In both the orthodontics and plastic surgery industries, Becky loves the way she is able to build relationships with patients over the years and witness the dramatic changes in their appearance and self-esteem. She enjoys serving others, whether they're co-workers, patients, family or friends, and brings this service mentality to the office every day. All our patients will say that Becky makes a point to brighten their day each time they are in the office. She ensures that they are Happy Campers, both before and after any procedures or treatments. She has a true team-oriented personality and helps everyone in the office in immeasurable ways.
Becky says her greatest blessing is her family! She has 2 adult daughters, a son-in-love, a teenage son, and became a "KiKi" to granddaughter in 2021. Becky is engaged to Daren and together they have a whopping 7 kiddos between them, with several kids married now, and more grandbabies on the way! Becky was born and raised in West Fort Worth, and feels fortunate that both her parents still live in the area. She loves spending time at their house, having big family meals, and playing cards, board games, and dominos at the kitchen table most weekends. Becky looks forward to her annual trip with Daren to St. Thomas, US Virgin Islands and a "girls only" vacation every year with her mom, two sisters, two daughters, and one niece. To unwind after work and on the weekends, she likes to binge watch TV shows, attend Broadway musicals (her happy place), and go to concerts.
---
Kacie Mitchell, Communications and Marketing Coordinator
Kacie officially became a Bowtie Babe in 2020 and is such a treasure for our office!
She graduated from The University of Texas at Arlington in 2014 with a B.A Degree in Communications. Before entering the wonderful world of aesthetics, Kacie was in a supervisory role in the education field. She decided she wanted to pursue something more in line with her passions in marketing and ended up in aesthetics! Kacie says she knows she has landed right where she is supposed to be.
She is a Texas native who was born and raised in Mansfield. She and her husband, Brandon, have 2 little girls and recently added a precious baby boy to their family. Being a mom is her greatest blessing! Kacie and her family love Fort Worth and all the local treasures it has to offer, especially all the yummy food.
Besides spending time with her family, she enjoys cozying up at home watching a movie or reading a book. She is the ultimate home body who thoroughly enjoys online shopping and carbs.
---
Chasity Chambers, Front Desk Coordinator
Chasity has been the perfect addition to our growing practice. She is quick to learn, all about the details and totally fabulous! She will be one of the first people you meet when you call or come into our office!
She comes to us with an extensive background and expert experience in cosmetic dentistry, specializing in orthodontics for 12 years. Her brave spirit lead her to try something new and eventually to us…we are so lucky! Her desire for building relationships and being a part of patients journey to self-confidence by making a positive change is at the heart of what drives her professionally.
Chasity is a Texas girl. She was born and raised in Crowley, Texas, then moved west to the Weatherford/Brock area – also known as the Cutting Horse Capital of the World. Her days begin at 4:30am, caring and feeding for her horses. She has 2 daughters, Paisley and Kinsley, who are both very involved in sports and stay busy on the basketball court.
Chasity loves sports, especially baseball, Texas country music concerts, riding horses, spending time with her family, traveling, rodeos, team roping and all things turquoise and fringe!!
She feels truly blessed to be a part of our team and is so excited for this new chapter in her life! Please welcome our sweet Chasity!
---
Bailey Smithers, Front Office Coordinator
Bailey, our sweet Front Office Coordinator, comes to us from the banking industry but always had the love for the beauty industry and knew God had other plans for her which led her to our practice! We love her sweet disposition and sparkly personality, and we know you will too! She is one of the first voices you hear and the first people you see when you visit us. She has a loving spirit and a natural way of making you feel comfortable!
Bailey was born and raised in Mansfield, Texas where she currently lives with her husband Garrett and 2 children. Bailey and her husband are high-school sweethearts! Bailey is a big family person and knows the importance of family and friendships!
Some of Bailey's favorite things to do are spending time with family and making memories, girl time with her girlfriends, traveling and being on the lake soaking up some sun (with sun protection of course).
---
Confidence should never be out of reach. Learn more about our patient-centered financing options.