Steven Camp MD Plastic Surgery & Aesthetics
3416 Lovell Avenue, Suite 200
Fort Worth, Texas 76107
Phone: (817) 228-4315
Fax: (817) 719-9323
Monday-Friday: 9 a.m.–5 p.m.

SkinPen® Microneedling
An innovative treatment designed to improve skin's tone and texture, SkinPen® microneedling is a great way to refresh and revitalize tired skin for men and women at our Fort Worth med spa. By stimulating the skin's natural ability to repair itself, SkinPen microneedling works to rebuild collagen and elastin in the deeper layers of the skin, resulting in smoother, tighter, younger-looking skin with minimal downtime.
What Is Microneedling?
Microneedling is a procedure that uses a handheld device, the SkinPen, with a series of ultra-fine needles in the tip, to carefully prick the skin and penetrate into the deeper layers of the skin, creating micro-injuries to the skin. These micro-injuries trigger the body's natural healing response, causing the body to generate new collagen and elastin. These building blocks of the skin result in smoother, firmer skin as you heal.
Microneedling can reverse the effects of sun damage and early signs of aging and improve the appearance of acne scars and large pores to give you a refreshed appearance.
SkinPen microneedling treatments can be combined with nourishing skin serums. These serums are applied to the skin after the microneedling treatment and penetrate into the deeper layers of the skin via the micro-channels created by the SkinPen needles, making them even more effective at rejuvenating the appearance of the skin.
What Is a Microneedling Treatment Like?
When your SkinPen microneedling treatment begins, your provider will numb the treatment area with a topical anesthetic. Once your skin is numb, your provider will use the pen-like tool puncture the skin one section at a time, moving slowly over the treatment area. If your treatment includes a skin serum, this will be applied after the microneedling treatment has been completed. SkinPen microneedling treatments usually take about 30 minutes to complete, depending on the size of the treatment area.
After the microneedling treatment, your provider will apply a gel to sooth any irritation and reduce inflammation.
Our highly skilled team of nursing professionals and licensed aestheticians is a down-to-earth group of women who share a passion for aesthetics and ensuring you feel comfortable and relaxed at every visit. They are a big part of our #HappyCamper vibe and one of the reasons people trust us to provide the best care possible.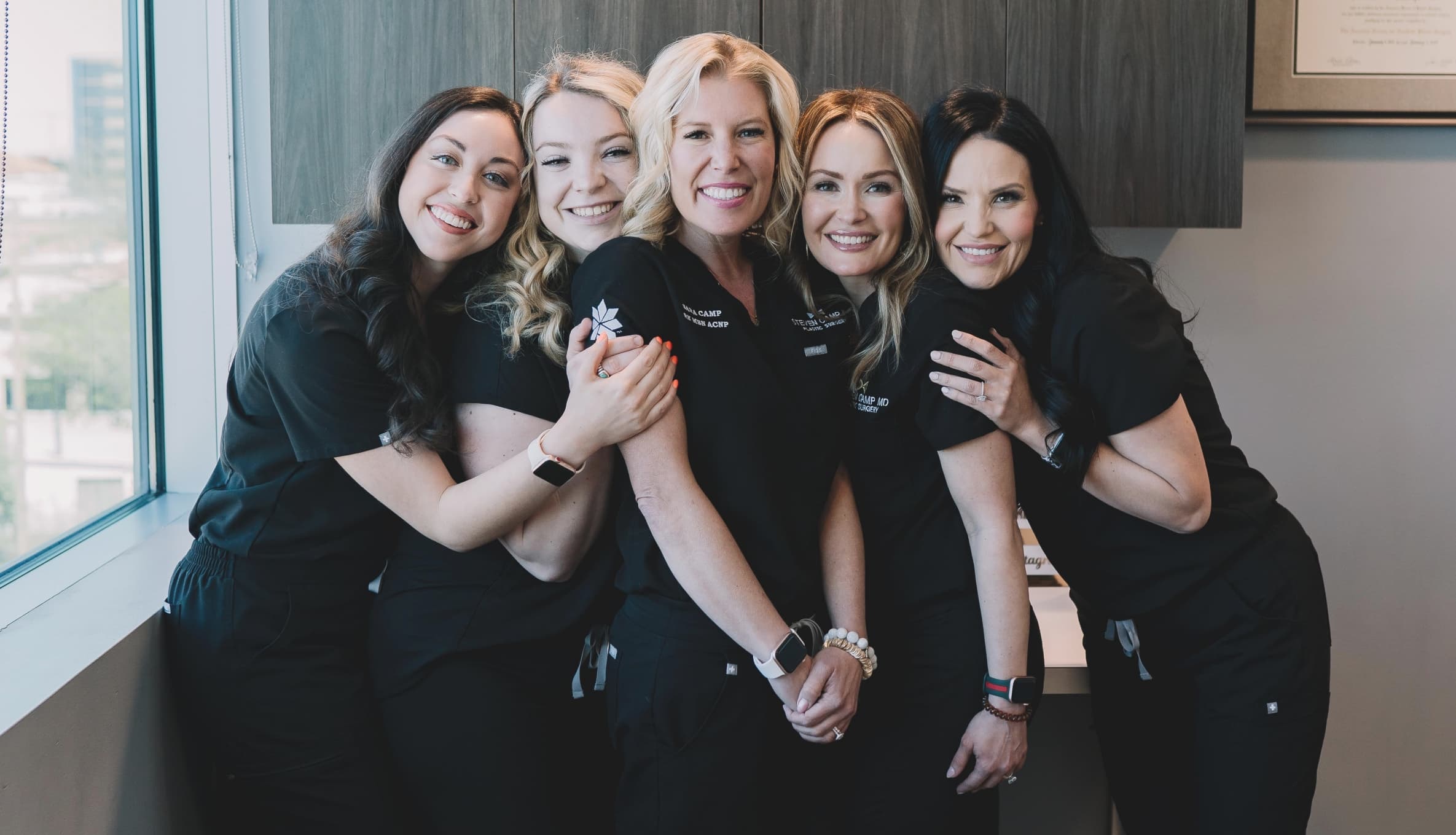 What Is Recovery from Microneedling Like?
Thanks to the local anesthetic, you should not experience any discomfort during the SkinPen treatment. You may experience some redness and swelling for a few days after treatment as your skin starts to heal, but you can resume wearing makeup within 24 hours after the procedure.
Over the next several weeks, your skin will continue to heal. As your skin recovers, it will build new collagen and elastin, resulting in smoother, firmer skin over the next few weeks.
For best results, we recommend 3-4 SkinPen miceoneedling treatments spaced 4-6 weeks apart. Your provider will discuss your customized treatment plan during your consultation.
Can Microneedling Be Combined with Other Treatments?
Yes! Microneedling can be paired with laser skin treatments to enhance your results even more. We often combine microneedling with Forever Young BBL™ and BBL HERO® to help improve the appearance of fine lines and wrinkles around the eyes and on the face to treat sun damage and early signs of aging. Microneedling can be combined with SkinTyte™ laser skin tightening to lift and tighten the skin even more. We also combine microneedling with other Sciton laser skin treatments, including HALO™, MOXI™, Contour TRL™, MicroLaserPeel™, and NanoPeel™ to enhance your skin's tone and texture even more.
We often use microneedling in combination with our Sciton laser skin treatments to address sensitive areas around the eyes, mouth, and neck where laser treatments cannot be utilized to help achieve the greatest improvement for your skin so that you look refreshed and restored with just a few treatments.
Get Started
If you are interested in improving the tone and texture of your skin with SkinPen micorneedling, request a consultation with the Bowtie Babes using the online form or call us at (817) 228-4315 to schedule an appointment.