Steven Camp MD Plastic Surgery & Aesthetics
3416 Lovell Avenue, Suite 200
Fort Worth, Texas 76107
Phone: (817) 228-4315
Fax: (817) 719-9323
Monday-Friday: 9 a.m.–5 p.m.

Rhinoplasty
Dr. Steven Camp performs rhinoplasty (sometimes called a nose job) in Fort Worth, Texas, to bring the size and shape of the nose into better harmony with the other facial features. Rhinoplasty is a very popular procedure with people from Abilene, Mansfield, Dallas, Frisco, and other nearby cities, largely due to its ability to transform the appearance of the entire face. It's extremely important to select an experienced rhinoplasty specialist such as Dr. Camp, whose advanced fellowship training and dedication to collaboration with his patients set him apart, and help ensure rhinoplasty results that make you look and feel great.
A Customized Procedure
Dr. Camp takes the time to learn about the cosmetic concerns you have and the specific outcome you envision. That's one of the things that sets him apart from other plastic surgeons. His collaborative nature is especially helpful for rhinoplasty patients, many of whom are in their 20s and 30s and may have been considering nose surgery for years.
Rhinoplasty is a very versatile procedure, and Dr. Camp can make your nose narrower or straighter; he can make refinements to the tip or the nostrils; he can smooth bumps or make a variety of other changes that make your nose more aesthetically pleasing.
After discussing your goals and examining your nose structure and the skin, Dr. Camp creates a customized surgical plan the best suits your specific needs. He explains the approach and what you can expect after the surgery.
Many women ask about undergoing breast augmentation at the same time as their nose surgery. This is an increasingly common and very do-able combination. Combining procedures is safe and offers a number of benefits. Those include:
Being placed under a general anesthetic only once
Saving the cost of certain fees that are charged for each operation
The convenience of planning for only one recovery, including scheduling time off from work
If you're interested in both breast enhancement and rhinoplasty, Dr. Camp encourages you to discuss this possibility during your consultation.
Advanced Techniques
Based on his physical evaluation of your nose during the consultation, Dr. Camp decides on one of two techniques for your rhinoplasty — either open or closed rhinoplasty. The open rhinoplasty technique offers Dr. Camp a direct view and access to the nasal structure, leading to more precision during the surgery. In either case, most of the operation itself involves altering the size and shape of the bone and cartilage beneath the skin.
Open Rhinoplasty
To expose the internal nasal structure, Dr. Camp makes a small, horizontal incision on the strip of skin — called the columella — separating the nostrils, through which he accesses the interior structures. The specific steps taken during the procedure vary depending on your cosmetic concerns. Dr. Camp sutures the incision after completing the procedure. This results in a tiny scar that becomes virtually unnoticeable as it fades.
Closed Rhinoplasty
You can probably guess by the name that this technique is performed without external incisions. Dr. Camp instead makes incisions inside the nostrils to gain access to the bone and cartilage being altered. Because the skin isn't lifted from the nose, Dr. Camp performs the procedure without a full view of the nasal structures.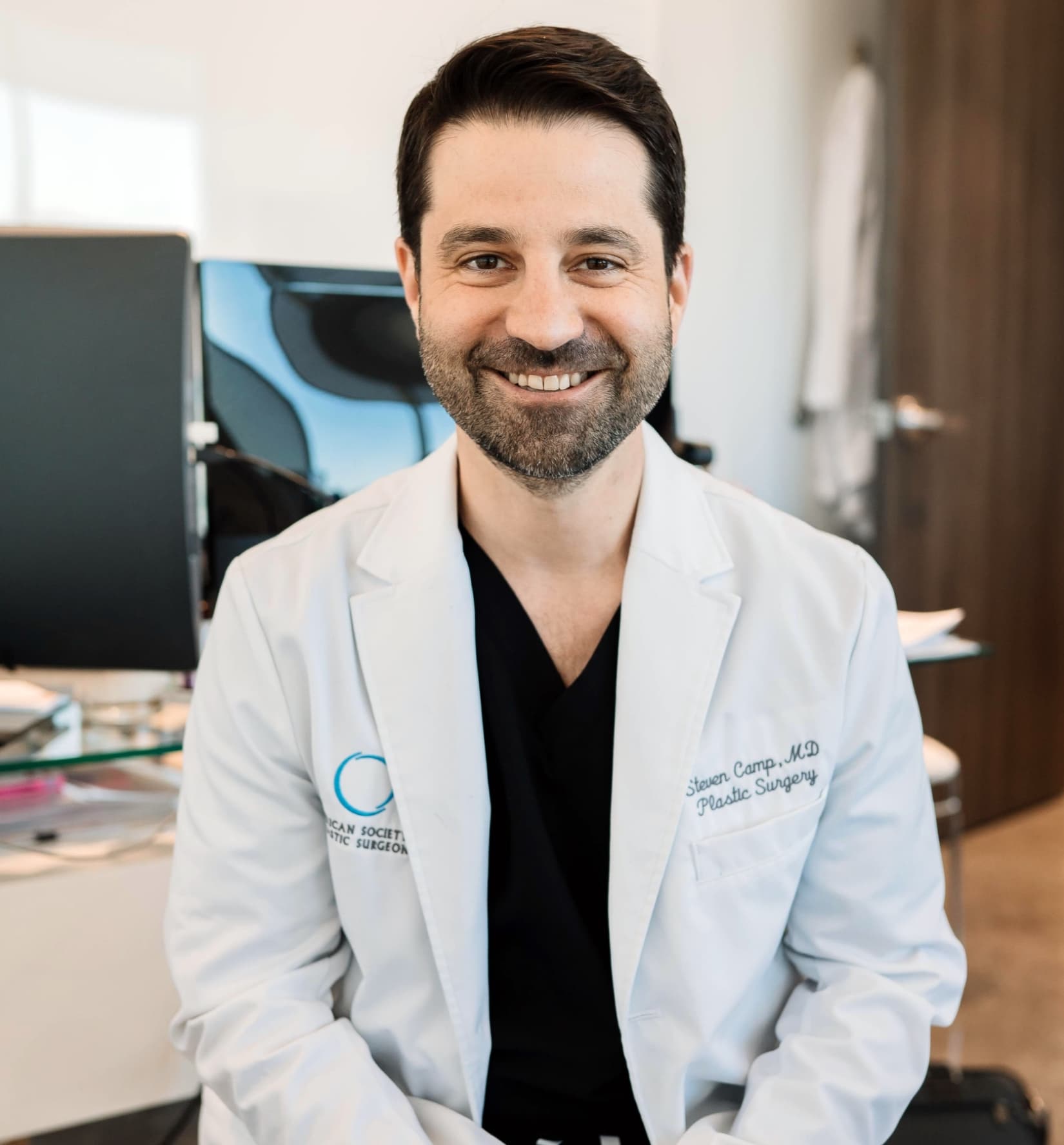 Steven Camp, MD
Certified by the American Board of Plastic Surgery
Dr. Camp is a fellowship-trained plastic surgeon recognized nationally as a leader in the field of aesthetic surgery. His impressive credentials include a prestigious plastic surgery residency at the University of Utah, where he served as Chief Resident, and serving as a board member with The Aesthetic Society, the leading plastic surgery professional association. His exceptional surgical skills and gift for putting patients at ease attract patients from throughout Texas and around the country.
Credentials You Can Trust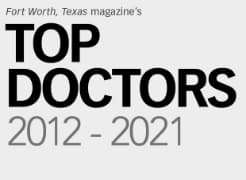 Recovery After Rhinoplasty
Many patients put off getting rhinoplasty because they are worried about the recovery process. They may have heard it was very painful, especially during the removal of nasal packing. The good news is that nasal packing is rarely used these days following rhinoplasty. In fact, the recovery is often relatively comfortable and uneventful.
Rhinoplasty involves general anesthesia, so you'll first spend some time in the recovery room until Dr. Camp believes you're ready to return home. Prescription or over-the-counter medication can help manage any discomfort, which often includes something similar to a dull headache during the first 24 hours. Dr. Camp provides detailed postoperative instructions to all patients. Most rhinoplasty patients feel ready to return to work about a week after surgery. Noticeable swelling and bruising may persist for several weeks, but in most cases it is minor after the first week. The most noticeable changes appear 4 to 6 weeks after your surgery, but the results continue improving and the final result may not be fully apparent until a year after the procedure.
Dr. Camp provides patients with his personal cell phone number and he encourages you either call him or the practice with concerns or questions about your recovery.
Facial Procedure Pricing
These are the starting prices for our procedures, the 6 month no interest* payment calculation, the 36 month fixed interest payment calculation, and the deposit required when you finance using PatientFi.
*If paid in full during promo period.
Prices listed are the starting price and not a guarantee of the cost for your procedure.
| Procedure | Starting Cost | 6 Month No Interest* | 36 Month Fixed Interest | Deposit |
| --- | --- | --- | --- | --- |
| Rhinoplasty | $10,700 | $1,783 | $330 | $2,100 |
| Rhinoplasty with Chin Augmentation | $15,100 | $2,517 | $466 | $3,000 |
| Lower Eyelid Surgery | $8,400 | $1,400 | $259 | $1,600 |
| Upper Eyelid Surgery | $6,900 | $1,150 | $213 | $1,300 |
| Upper and Lower Eyelid Surgery | $14,000 | $2,333 | $432 | $2,800 |
| Brow Lift + Upper Eyelid Surgery | $11,300 | $1,883 | $282 | $2,300 |
| Ear Surgery (Otoplasty) | $10,200 | $1,700 | $315 | $2,000 |
| Facelift/ Neck Lift | $17,500 | $2,917 | $540 | $3,500 |
| Facelift/ Neck Lift and Upper + Lower Eyelid Surgery with Overnight Stay | $29,800 | $4,967 | $920 | $5,900 |
| Chin Implant | $6,900 | $1,150 | $173 | $1,400 |
| Buccal Fat Removal | $5,800 | $967 | $145 | $1,200 |
Confidence should never be out of reach. Learn more about our patient-centered financing options.
Get Started
If you've been considering cosmetic nose surgery in Fort Worth, request a consultation with board-certified plastic surgeon Dr. Steven Camp by using our online form, or call our office at (817) 228-4315 to schedule an appointment.