Steven Camp MD Plastic Surgery & Aesthetics
3416 Lovell Avenue, Suite 200
Fort Worth, Texas 76107
Phone: (817) 228-4315
Fax: (817) 719-9323
Monday-Friday: 9 a.m.–5 p.m.

Dermaplaning
Looking for a facial treatment that gently exfoliates the skin and removes "peach fuzz" without chemicals or downtime? Dermaplaning at our Fort Worth, TX, practice is for you. Dermaplaning is a manual skin exfoliating technique that removes dirt and debris from the skin's surface, resulting in a smooth, refreshed appearance.
How Is Dermaplaning Performed?
The basic concept of dermaplaning is similar to shaving. Using a surgical scalpel held at an angle, an aesthetic specialist scrapes the skin without penetrating it (which is one of the reasons the procedure is so popular at Camp Plastic Surgery).
Even though you can find do-it-yourself dermaplaning kits and tools online or at the store, they typically can't provide the results produced by our providers who are trained to perform the procedure. Home dermaplaners often end up with dry skin, and the risk of accidentally nicking the skin is real because the skin is pulled tight during the treatment.
Our highly skilled team of nursing professionals and licensed aestheticians is a down-to-earth group of women who share a passion for aesthetics and ensuring you feel comfortable and relaxed at every visit. They are a big part of our #HappyCamper vibe and one of the reasons people trust us to provide the best care possible.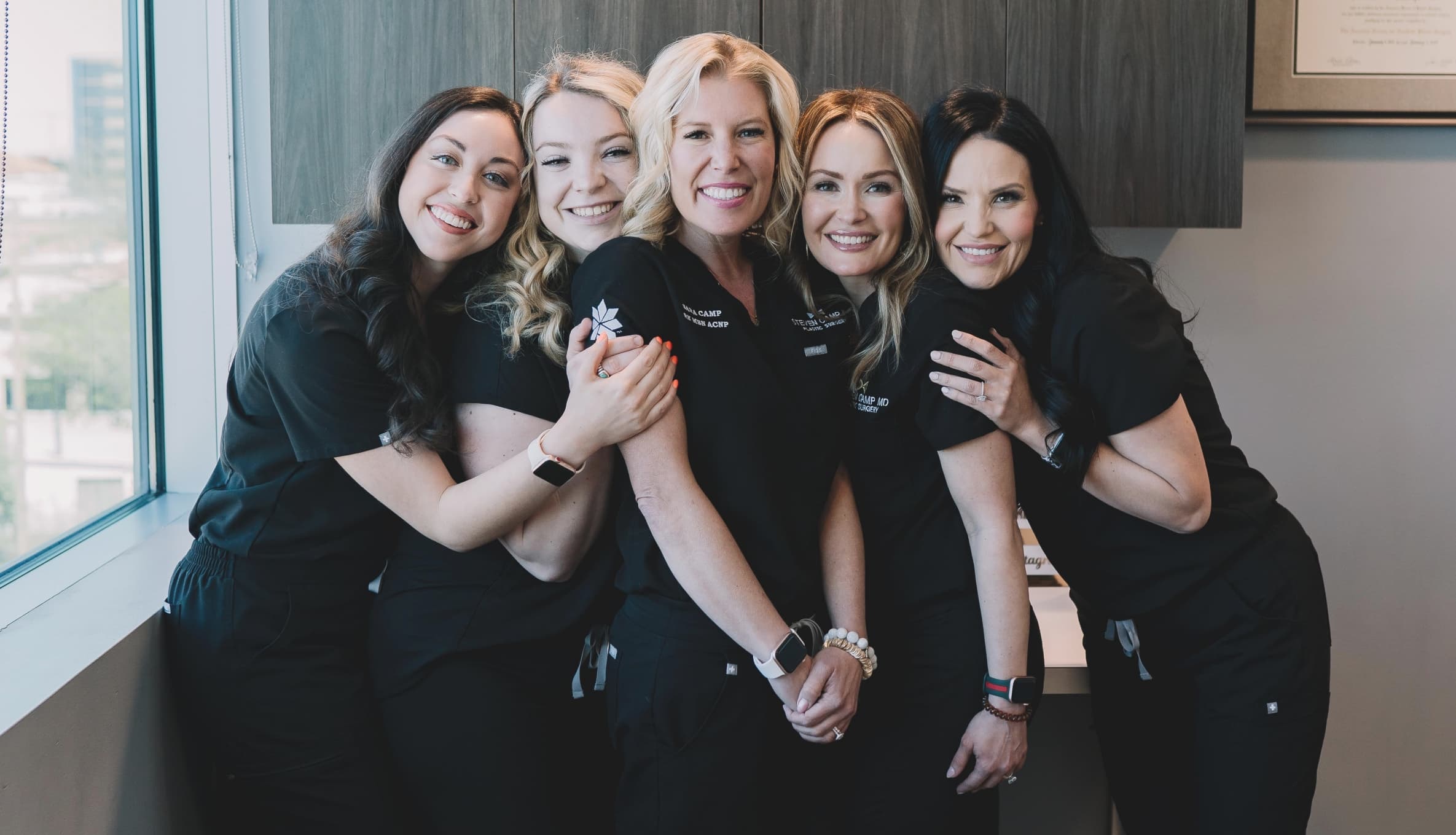 What Are the Benefits of Dermaplaning?
By exfoliating the skin, removing debris clogging the pores, and eliminating vellus hair (peach fuzz), dermaplaning provides a smooth surface that appears refreshed. Dermaplaned skin absorbs serums and other skincare products more easily and efficiently, and makeup applied to the smoother skin looks better, too. The procedure can also prepare skin for other nonsurgical treatments, such as a HydraFacial® or chemical peel. Dermaplaning is an excellent treatment for people with sensitive skin.
What to Expect
A dermaplaning treatment usually takes about 30 minutes. One of our providers cleans the area thoroughly before using the blade to scrape the skin in an upward motion. Because only the skin's outer layers are affected, no topical numbing cream is necessary. When the procedure is complete, sloughed-off skin cells and peach fuzz are wiped away. You can return to work or other activities immediately, and as always, we recommend applying sunscreen.
Get Started
The best way to determine if you can benefit from dermaplaning is to meet with one of our providers. You can request a consultation using the online form or call the practice at (817) 228-4315 to schedule an appointment.