CoolTone®
Active women and men from Mansfield, Abilene, and other nearby cities who have reached a plateau in their efforts to tone and firm muscles in specific areas of the body can now boost their efforts with CoolTone treatments at our Fort Worth, TX, practice. Developed by the same company that produces the innovative CoolSculpting® procedure, CoolTone uses magnetic energy to stimulate involuntary muscle contractions in the abdomen, buttocks, and thighs.
Each patient is different, and your results may vary.
How Does CoolTone Work?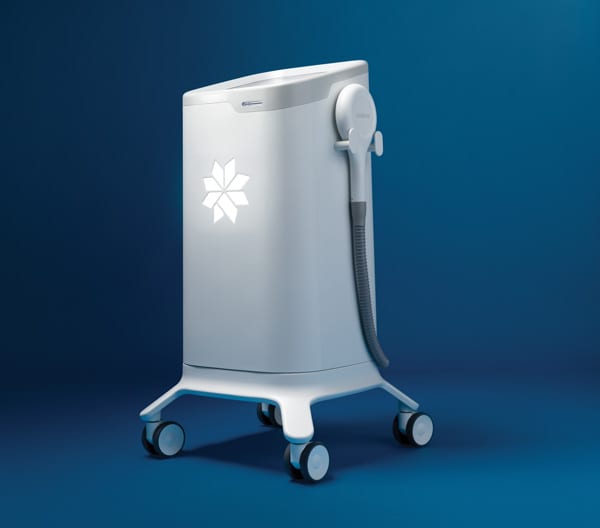 Crunches and squats at the gym isolate specific muscles and help build and tone them through repeated contractions. CoolTone triggers muscle contractions with an innovative technology called magnetic muscle stimulation (MMS). During a CoolTone procedure, electromagnetic energy stimulates involuntary muscle contractions, strengthening muscle fibers in the targeted area. Muscles are efficient conductors of magnetic fields, unlike skin and fat, which are poor conductors.
CoolTone is so effective because it stimulates frequent and intense muscle contractions during treatment. A single, 30–minute CoolTone treatment can simulate the equivalent of 25,000 sit-ups for a patient targeting the abdominal area.
CoolTone Before-and-After Photos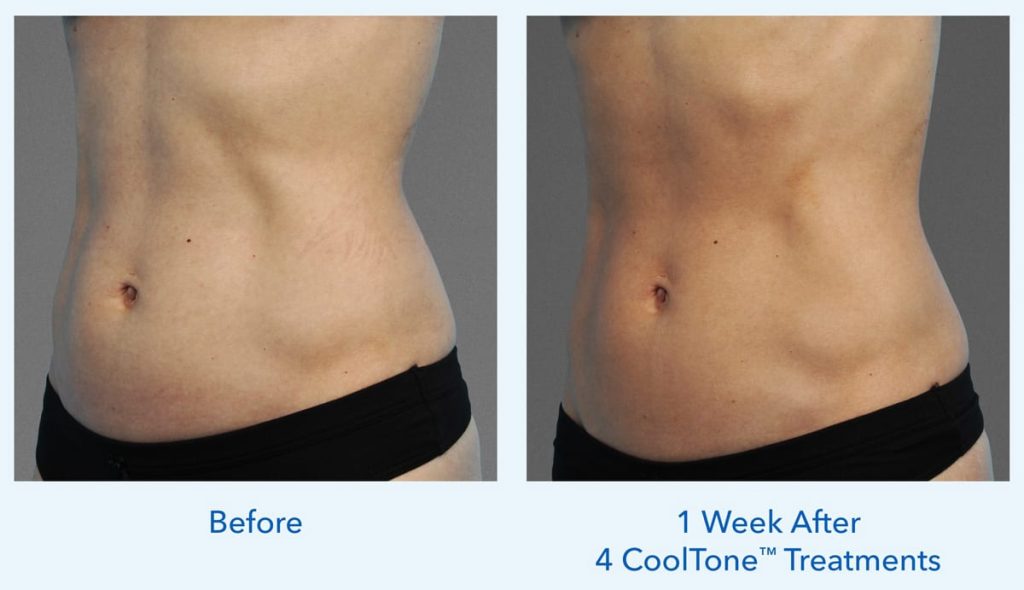 Photos courtesy of Allergan.
Reward Yourself With Alle™
It's easier than ever to earn discounts on some of your favorite med spa procedures and skincare products when you become a member of our Allē aesthetics rewards program. In addition to saving each time you come in for the most popular Allergan treatments, including BOTOX® Cosmetic, JUVÉDERM®, JUVÉDERM® VOLUMA XC, and SkinMedica® products, Allē members can also earn points on other selected services and products
What Happens During a CoolTone Treatment?
The noninvasive CoolTone treatment begins with the patient lying down. The provider then attaches a paddle-like device to the target area (the abdomen, buttocks, or thighs). When the provider activates the device, magnetic energy travels through the patient's skin and fat, stimulating involuntary muscle contractions. The contractions don't cause discomfort, but patients typically feel sore after the procedure. The sensation is similar to what someone might experience after strenuously working out. After treatment, hydration is important to flush lactic acid from the muscles and minimize soreness.
Each treatment lasts around 30 minutes, and we recommend an initial series of 4 procedures spaced one month apart.
Schedule at Steven Camp MD Plastic Surgery & Aesthetics with the Bowtie Babes
It's never been easier to schedule an appointment for skincare treatments, a VISIA skincare analysis, and consultations for CoolSculpting and CoolTone provided by our aesthetic specialists Lindsay, Angela, and Crystal.
Schedule your Appointment
A Reputation Built on Results
I have gone to Dr. Camp for two surgeries. Two years ago I had a breast lift and augmentation, minimal...
Cannot recommend Crystal enough! I saw her for lip fillers and Botox and I'm so happy with my results....
Angela is beyond amazing. I was blown away by the results that I had from BBL laser treatment on my...
Best in DFW hands down. Flawless mommy makeover with the absolute best care. Talented and kind. Changed...
Can You Combine CoolTone With Other Treatments?
CoolTone and CoolSculpting® complement each other by toning muscle and reducing fat. Combining treatments as part of a package can be cost-effective and produce enhanced body contouring results. Some patients can also benefit from laser skin tightening procedures. The best candidates for CoolTone and CoolSculpting are men and women who are in good physical shape but want to address areas that can be difficult to tone.
How Much Does CoolTone Cost?
The price of a CoolTone treatment varies from patient to patient depending on the number of treatment areas. The number of treatment sessions, which is usually based on a patient's ultimate goals, will also affect the total CoolTone cost. CoolTone costs $600 per cycle (Dr. Camp usually recommends starting with a package of 6 cycles.) Dr. Camp tailors personalized treatment plans to meet patients' aesthetic goals and their budgets.
What Is Recovery Like After CoolTone?
There isn't downtime after a CoolTone procedure; you can return to work or any other routine daily activities. You can expect to feel sore for the rest of the day. Results are usually noticeable about 2 to 4 weeks after the final treatment session. Patients often schedule follow-up treatments to maintain their results.
Get Started
To learn if you are a good candidate for this nonsurgical muscle toning with CoolTone, request a consultation at our Fort Worth office using the online form to meet personally with Dr. Steven Camp. Or call our office at (817) 228-4315 to schedule an appointment.
Back to Top