Steven Camp MD Plastic Surgery & Aesthetics
3416 Lovell Avenue, Suite 200
Fort Worth, Texas 76107
Phone: (817) 228-4315
Fax: (817) 719-9323
Monday-Friday: 9 a.m.–5 p.m.

Surgical Team
Cortni Campbell, OR Director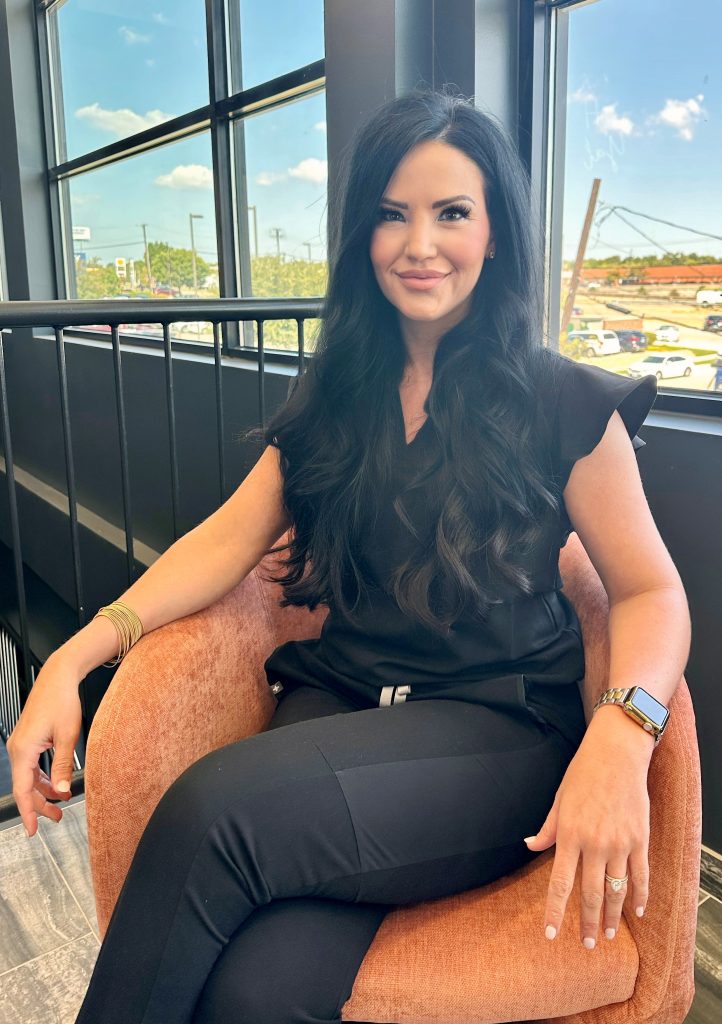 received her nursing degree in 2009 and is currently completing her master's degree at Frontier Nursing University to become a Women's Health Nurse Practitioner. She began her nursing career in Labor and Delivery and worked in women's services for over 11 years. In 2019, she transitioned her career and became the OR Manager for a Plastic Surgery Ambulatory Surgery Center. She joined Dr. Camp in March of 2022 as the Director of Modern Surgery Center. She wears many hats and all with a positive attitude. She feels incredibly blessed to be part of such an amazing team.
Cortni was born and raised in Texas. She is married and has 4 kids, ages 18, 11, 9, and 1. On her days off, she enjoys spending time with her family, traveling, and exploring new places, and lots and lots of Mexican food.
---
Casey Lobato, Registered Nurse
Casey is new to our surgery center and circulating in the OR. She has had a lifelong passion for helping others. She found her love for nursing while working in the NICU and Pediatrics, but also has experience in Pre-Op, PACU, and Trauma. She has enjoyed the learning experience and getting to know all of the amazing team while transitioning to the OR.

Casey graduated from Texas Tech University with her Bachelors in Biology (Wreck 'em Tech). She later went back to school to pursue her desire to help people and make a difference by becoming a nurse. She received her ADN from Weatherford College and Graduated from University of Texas at Arlington with her Bachelor of Science in Nursing.

Casey and her husband Ray (also a Red Raider) have been married for 18 years. Together, they have 2 beautiful girls, Campbell 16 and Elliot 12. You can usually find Casey cheering on her girls at a volleyball game or swim meet, or at home with Ray watching Dateline. In her spare time, she enjoys reading by the pool, listening to a new podcast or her favorite past time: traveling to new places with her family!
---
Makenna Morris, Registered Nurse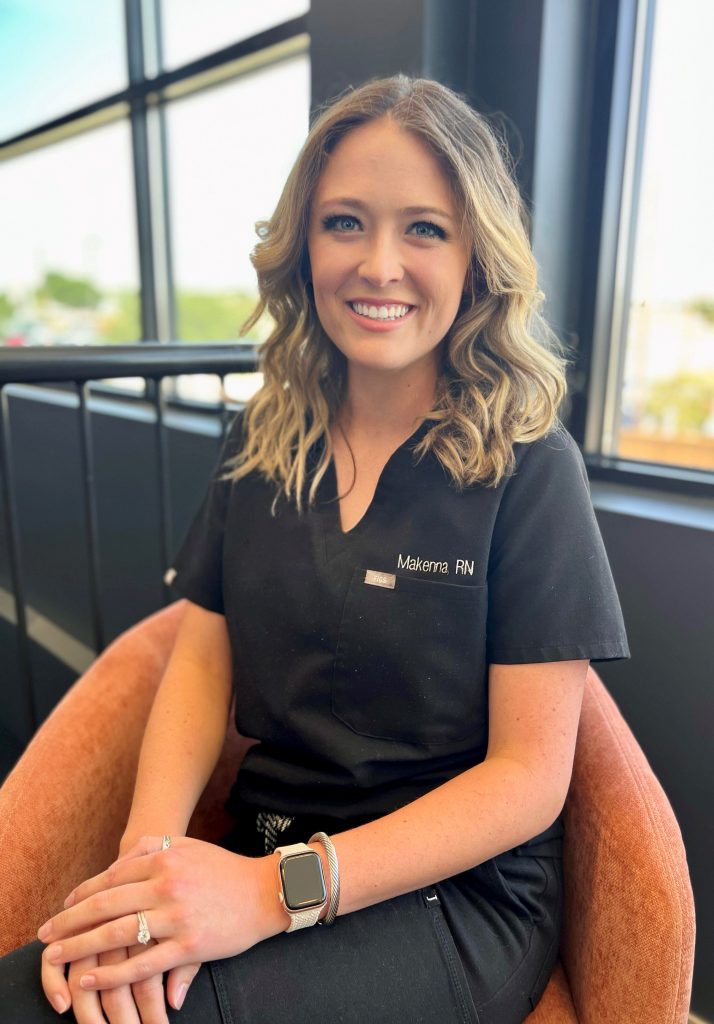 Makenna joined our team in the fall of 2022 to help open Modern Surgery Center! She went to school at Texas Christian University (Go Frogs) and graduated with a Bachelor's of Science in Nursing and a Bachelor's in Public Relations. Before joining our team she spent 4 years as a Labor and Delivery and NICU nurse. Most days you will find Makenna in the Operating Room assisting our Surgeons and helping our patients to have a positive and safe experience.
Makenna was born and raised in Orange County, California and moved to Fort Worth in 2013. With 10-years under her belt, we definitely claim her as a Texan! She loves to travel whenever she can! Her favorite trip this year was a 5 day backpacking trip through the Grand Canyon. Makenna and her husband Nathan even got married in Amsterdam last fall! She has a fur-baby, a Golden Retriever named Goose. And yes he is the best wingman out there.
One of our favorite things about Makenna is her positive can-do attitude and kind heart. She instantly makes every patient feel comfortable and at home.
---
Kelly Scimeca, Registered Nurse
Kelly joined our team in April 2023, and is our pre-op and recovery nurse. She has over 12 years of experience as a critical care nurse. Kelly will be with you on your surgery day to get you ready in pre-op and be with you as you wake up with your new look in recovery! She loves being with her patients on their surgery day, and makes every effort to ensure they are comfortable and happy. Kelly's attention to detail is evident when educating patients and family members on expectations and post-op care. Kelly will brighten your day with her beautiful smile and positive attitude!
Kelly has always found joy in helping others. She graduated from TCU Harris College of Nursing in 2011 (Go Frogs!). She worked in a Medical ICU for 10 years. During this time Kelly earned her certification as a Critical Care Registered Nurse and ECMO specialist, caring for some of the sickest patients in DFW. Kelly began working as a plastic surgery nurse last year and was immediately drawn to the positive and posh atmosphere. When she joined Dr. Camp's surgery team, she felt right at home and knew she found her dream job! Kelly feels incredibly blessed to be part of the Modern Surgery team!
Kelly was born and raised in Texas. During her time at TCU, she fell in love with the city of Fort Worth. She is an active member of the Junior League. On her days off, Kelly can be found spending time with her family and friends, playing tennis, traveling, eating Mexican food, attending Church, cooking, volunteering, reading, practicing Pilates, and cheering on her Horned Frogs!
---
Anna Stillwell, Registered Nurse
Anna earned her bachelor's degree in nursing from Texas Christian University (TCU). After graduation, she began her nursing career in the Neonatal Intensive Care Unit where she cared for premature babies born as young as 23 weeks gestation. Her favorite part of being a nurse is forming meaningful relationships with patients and their families.
She is extremely excited to be a part of the surgical team here at Modern Surgery Center and to focus on making a positive impact on each and every one of our patients. She values teamwork, integrity, and lifelong learning with a genuine desire to help people feel their absolute best.
Since moving to Texas, she has fallen in love with the Fort Worth community. She met her husband, Spencer, in college and they have since established their life here. They welcomed their first beautiful baby girl, Caroline, in January of this year. In her spare time, you can find her spending quality time with family and friends, cheering on the TCU Horned Frogs, and staying active outdoors with their labradoodle puppy, George.
---
Shelby Barnett, Certified Surgical Technologist
Shelby joined our team in 2023 bringing four years of surgical experience. She graduated in 2019 and began working at a hospital where she learned numerous specialties but advanced in breast oncology and reconstructive surgery. Later she moved closer to home and began working at a surgery center. She quickly became the coordinator for ENT and plastic surgery.
Shelby was raised in Grand Prairie, Texas. She now resides in Fort Worth with her 5 year old Great Pyrenees named Larry. In her free time, she likes spending time with friends and family. She loves finding new brunch spots and unique places for bonding with friends. Her family bonds over playing cornhole in a social league her dad created. Creating new memories with the people she loves is what she strives for.
---
Jessica Cooper, Licensed Surgical Assistant
Jessica joined Camp Plastic Surgery in 2018 and has over 16 years of surgical experience.
She began her career as a surgical tech and has been a licensed surgical assistant since 2018. Jessica is licensed through the Texas Medical Board as a surgical assistant and also maintains a certification with NBSTSA National Board of Surgical Technology and Surgical Assisting.
Jessica has a wide range of experience working with surgeons around the metroplex. During the 16 years working in surgery, she has assisted in many specialties including Obstetrics, Gynecology, Orthopedics, General, Robotics, ENT, and Plastic surgery. She found she has a passion for plastic surgery which allows her to combine her attention to detail, love of surgery, and her artistic side.
Jessica has lived in Texas her whole life. She loves living in a small town and being close to family. Jessica and her husband have been married for 13 years and have a blended family of 6. They also have 2 dogs, a German Shepherd named Khan and a Maltese mix rescue named Ruby (who runs the house). In her spare time she enjoys growing a large vegetable/herb garden and hosting game nights for her large extended family.
---