Steven Camp MD Plastic Surgery & Aesthetics
3416 Lovell Avenue, Suite 200
Fort Worth, Texas 76107
Phone: (817) 228-4315
Fax: (817) 719-9323
Monday-Friday: 9 a.m.–5 p.m.

Keravive Hair Restoration
Keravive Hair Restoration
If you are experiencing thinning hair or hair loss, we are excited to offer a proven solution to help you have the best hair of your life! Thanks to Keravive hair restoration treatments, we can help you nourish your scalp to enable you to regrow your hair over time. We are excited to help men and women from Fort Worth, Dallas, Frisco, Mansfield and beyond regrow their hair, without surgery or downtime!
Keravive is a HydraFacial® for the scalp!
Using the HydraFacial applicator with the Keravive Peptide Solution, we can help you regrow your hair and regain your confidence.
Get Started
To learn if you are a good candidate for hair restoration and scalp rejuvenation treatments, request a consultation at our Fort Worth office to meet with one of our experienced providers. Or call our office at (817) 228-4315 to schedule an appointment.
What Is Keravive?
Keravive is a hair restoration treatment that utilizes the HydraFacial wand to remove impurities from your scalp while adding hydration and infusing the skin with peptides and growth factors to help regrow your hair. The same vacuum and infusion technology that enables HydraFacial to refresh your skin by exfoliating, extracting, and hydrating your face enables our providers to treat the skin of your scalp to remove impurities and infuse growth factors to stimulate hair growth.
Keravive helps restore your scalp's microbiome to help you regrow your hair. Some signs that your scalp's microbiome could use some help include:
Hair loss
Thinning hair
Scalp sensitivity
Flaky, itchy skin
Keravive works like a facial for your scalp, deep cleaning the clogged hair follicles while hydrating and infusing them with concentrated ingredients to create an ideal environment for stimulating natural hair growth.
To help you get even better results, your provider may recommend adding LED light therapy treatments to enhance the outcomes from your Keravive treatments. LED light therapy uses infrared wavelengths to penetrate the top layers of the skin, triggering the skin's natural healing process. Your body will produce new collagen and elastin, resulting in improved skin condition to promote hair growth.
What Does Keravive Do?
Keravive is designed to rejuvenate your scalp, creating the ideal environment for you to grow healthy hair. Keravive treatments support natural hair growth by deeply cleansing the scalp, exfoliating dead skin cells and clogged hair follicles to reveal new, fresh skin while adding hydration and nutrients to the skin's surface to encourage hair growth.
By restoring your scalp's natural biome, your hair follicles are refreshed and hydrated, creating an ideal environment for regrowing your own hair.
In clinical studies,
75% of participants experienced improved hair fullness*
82% of participants had shinier, healthier hair by visit 3*
*Patient results included daily use of the take-home peptide spray.
Experience the Keravive difference for yourself! Request a consultation or call (817) 228-4315 to schedule your free scalp analysis.
How Many Keravive Treatments Will I Need?
Every patient is different, so your provider will develop a customized hair restoration treatment designed to help you achieve your goals, but for best results, we recommend a series of at least 3 Keravive hair restoration treatments spaced a month apart. We will provide you with a bottle of peptide spray following your treatment to use daily at home to maintain your results between treatments.
Our highly skilled team of nursing professionals and licensed aestheticians is a down-to-earth group of women who share a passion for aesthetics and ensuring you feel comfortable and relaxed at every visit. They are a big part of our #HappyCamper vibe and one of the reasons people trust us to provide the best care possible.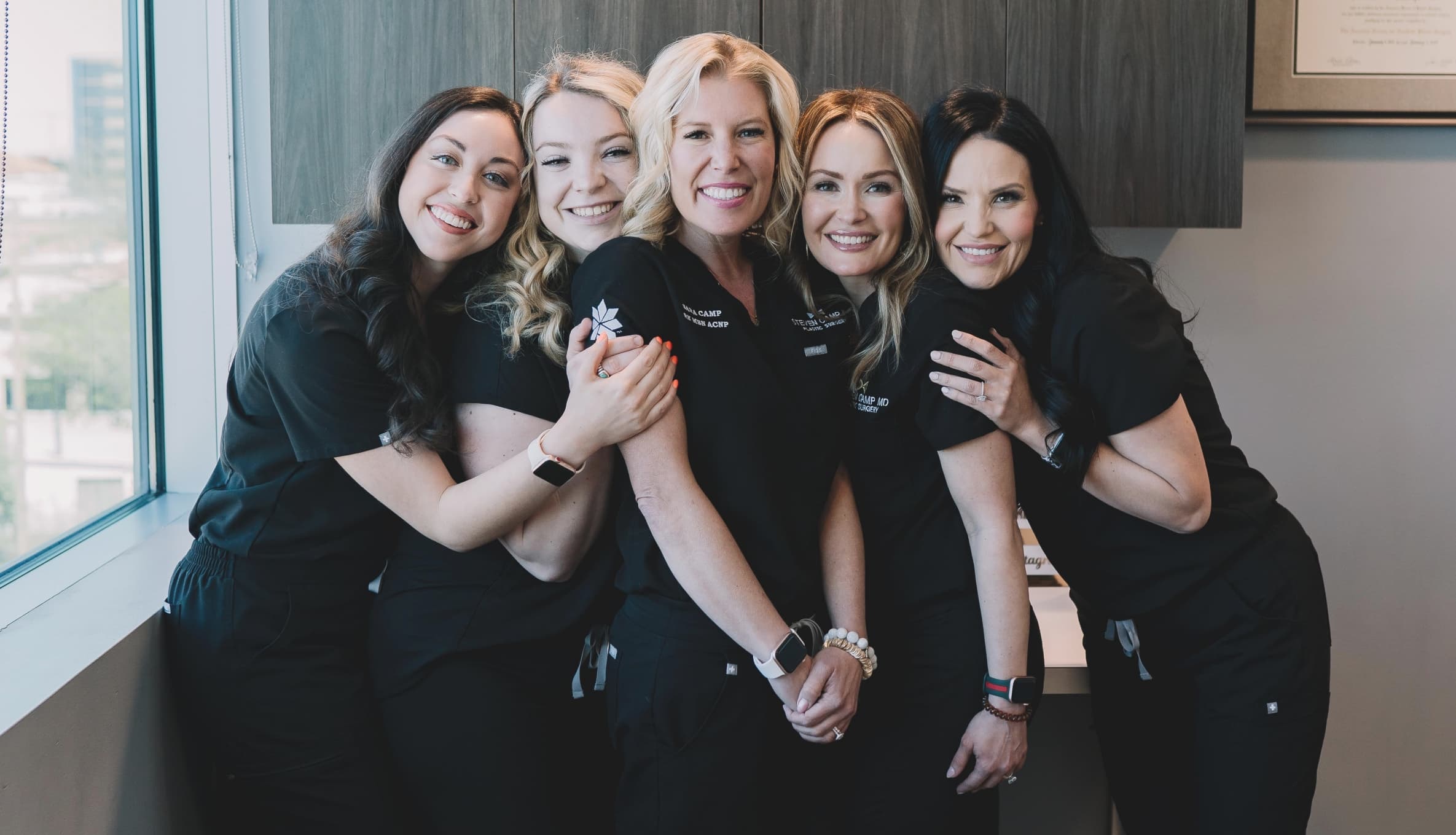 When Will I See Results?
After your first Keravive treatment, you will experience a more hydrated, cleaner scalp, resulting in fuller, shinier hair. As you continue your Keravive treatments, most patients can expect to see healthier, thicker hair after 90 days.
As you continue to care for your scalp with the Keravive peptide spray, you can expect your results to improve, with full results appearing within a few months following your final treatment.
Schedule Your Scalp Analysis
If you are experiencing hair thinning or hair loss, don't wait! Schedule your scalp analysis today to find out if Keravive is right for you!
Get Started
To learn if you are a good candidate for nonsurgical hair restoration treatments with Keravive, request a consultation at our Fort Worth office to meet with one of our experienced providers. Or call our office at (817) 228-4315 to schedule an appointment.