Steven Camp MD Plastic Surgery & Aesthetics
3416 Lovell Avenue, Suite 200
Fort Worth, Texas 76107
Phone: (817) 228-4315
Fax: (817) 719-9323
Monday-Friday: 9 a.m.–5 p.m.

Sciton Laser Skin Resurfacing
Sciton Laser Skin Resurfacing
Healthy, attractive skin is a big part of looking and feeling your best. But our Texas climate can make you especially vulnerable to the sun damage that causes wrinkles, lines, and age spots. Laser skin resurfacing at our Fort Worth med spa reverses these signs of aging with little downtime and minimal discomfort.
What Is Laser Skin Resurfacing?
Laser treatments target the skin with rapid, concentrated pulses of light beams that create controlled wounds to the tissue. Ablative laser skin resurfacing vaporizes the thin, outer layers of the skin. Non-ablative treatments penetrate without damaging the skin's surface, heating the underlying layer. In both cases, the body's natural healing response creates new collagen and elastin, and smoother, more youthful-looking skin gradually emerges as the results continue improving over time.
Trust Your Face to An Expert
Dr. Steven Camp is an experienced laser skin resurfacing expert and Sciton Luminary who presents and speaks about laser skin resurfacing treatments on behalf of Sciton. Sciton is the manufacturer of the lasers we use at Camp Plastic Surgery & Aesthetics: HALO®, MOXI® Contour TRL™, MicroLaserPeel®, NanoLaserPeel®, BBL® HERO™, and BBL.
Angela Negron, APRN, FNP/MSN, BC, has extensive training and education in laser skin treatments. She is a Sciton presenter and provides training for other medical aesthetic professionals on behalf of Sciton. She and our other laser technicians regularly attend in-person conferences and webinars and take courses offered by Sciton for additional education on how to use the latest laser technology.
Lindsay Haney, our licensed aesthetician and certified laser technician, has significant experience in skin health. She works with our patients to help them achieve gorgeous skin through a combination of facials, skincare products, and laser skin treatments. She starts with HydraFacial® to get skin glowing, then creates customized skincare regimens of SkinMedica®, SkinCeuticals®, and ZO® medical-grade skincare products, and then performs laser skin treatments using HALO, MOXI, and BBL HERO.
At Camp Plastic Surgery & Aesthetics, we are constantly learning and training to sharpen our skills and ensure the best possible results for our patients.
Model
What Can Laser Skin Treatments Do?
Treat age spots and sun damage
Reduce redness
Minimize wrinkles
Firm skin tissue
Improve skin tone and texture
Restore radiant skin
About Laser Skin Resurfacing
When performed by highly trained providers, laser skin resurfacing treatments offer a wide range of benefits. At our practice, Dr. Camp, Angela, and Lindsay have the experience and skill to create excellent results for patients.
| Best for: | Procedure Time: | Results: |
| --- | --- | --- |
| Fine lines, sun damage, acne scars, age spots, redness, rosacea | 20 minutes to 1 hour | Up to 1 year |
Your Laser Skin Resurfacing Options
HALO
Unlike any other laser, HALO is a breakthrough skin resurfacing treatment that our providers customize to produce the desired results with more or less downtime, depending on the patient's lifestyle. HALO is the first hybrid fractional laser (HFL) that delivers both ablative and non-ablative wavelengths to the same microscopic treatment area. This means that you don't have to choose between great results and minimal downtime. That's what being a #Happy Camper is all about.
Women and men of all skin types can benefit from HALO treatments, which can target the neck, chest, and hands, in addition to the face. By combining the more invasive ablative wavelength, which removes the skin's outer layers, with the non-ablative wavelength, HALO addresses multiple skin concerns in a single treatment. HALO is great for men and women of all ages concerned about:
Fine lines and wrinkles
Discoloration
Sunspots
Large pores
Rough skin texture
Redness
MOXI
MOXI is a mild laser treatment designed to help treat early signs of aging and sun damage on the face, neck, and chest to help keep your skin looking healthy and fresh for as long as possible. MOXI can also be used to maintain and prolong the results of other laser treatments. MOXI treatments only take about 10 minutes and involve minimal discomfort. This gentle laser treatment requires no downtime, and recovery is quick for most patients.
MOXI is safe for women and men of all ages who want to prevent further damage to their skin and have minor skin concerns such as:
Uneven skin tone and texture
Fine lines and wrinkles
Freckles
Light sun damage
Modern Maintenance
Want to know the secret to beautiful skin?
A treatment plan of medical-grade skin care and consistent BOTOX® and laser treatments.
When you combine a Sciton BBL® HERO™ or MOXI® laser treatment with your routine BOTOX every 3 months, receive your BOTOX for only $12/unit.
Laser and BOTOX must be done at the same appointment. Have questions? Text (817) 764-1330!
Model
Contour TRL
We use this laser for deep skin resurfacing to treat a range of skin conditions, customizing each procedure depending on the patient's specific concerns, the desired results, and the amount of downtime expected. By adjusting the intensity of the laser treatment, we safely remove a layer of skin to a depth that Dr. Camp determines will provide the desired outcome. A laser skin peel such as Contour TRL stimulates new collagen growth, improving the thickness and resilience of your skin. The fresh, healthy skin cells that emerge after the treatment also give the skin a more youthful and rejuvenated appearance.
Contour TRL is a more intense treatment for the face and body. Depending on the severity of the skin damage, recovery time can vary from one day to several days to fully recover. Candidates are men and women of all ages with:
Scars
Acne marks
Uneven or rough skin texture
Severe skin aging
MicroLaserPeel
This treatment is less invasive than the Contour TRL resurfacing treatment but can be combined with other treatments that enhance collagen production. We can use a MicroLaserPeel for the face, neck, chest, and hands and combine it with Forever Young BBL for enhanced results.
This laser peel works to remove the outer layers of skin, revealing fresh, healthier skin and stimulating collagen as you heal. It's a great option for women and men with:
Irregular skin texture
Uneven skin tone
Sun damage/discoloration
Pigmented lesions
Fine lines and wrinkles
NanoLaserPeel
Some patients can benefit from a laser treatment that removes just the skin's upper layer, refreshing your appearance with very limited downtime. Both the NanoLaserPeel and MicroLaserPeel involve a laser precisely removing damaged skin. But the NanoLaserPeel is less intense and can be compared to a light to moderate chemical peel. We love to combine it with HydraFacial and use it as a maintenance treatment.
Full results are often visible within 2-3 days after treatment. Candidates are men and women with minor skin conditions, including:
Superficial blemishes
Discoloration
Dull skin
Fine lines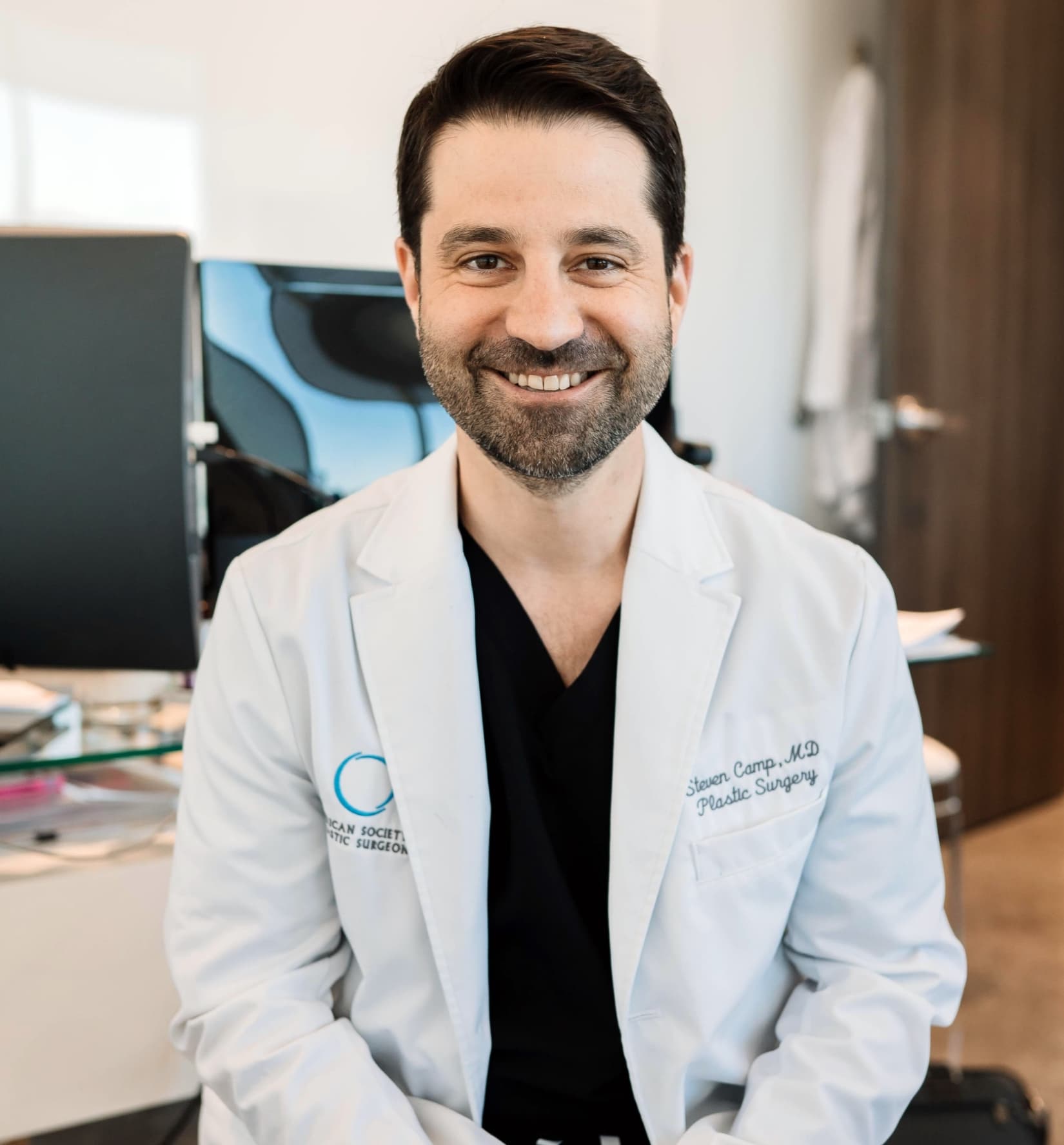 Steven Camp, MD
Certified by the American Board of Plastic Surgery
Dr. Camp is a fellowship-trained plastic surgeon recognized nationally as a leader in the field of aesthetic surgery. His impressive credentials include a prestigious plastic surgery residency at the University of Utah, where he served as Chief Resident, and serving as a board member with The Aesthetic Society, the leading plastic surgery professional association. His exceptional surgical skills and gift for putting patients at ease attract patients from throughout Texas and around the country.
Credentials You Can Trust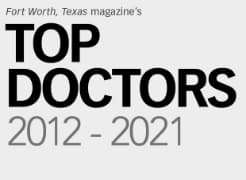 Preparing for Your Laser Skin Resurfacing Treatment
Preparing for your laser treatment is important. In the 2 weeks leading up to your appointment, you should avoid:
Tanning
Unprotected sun exposure
Strong chemical peels
Dermabrasion
Additionally, avoid any topical products or medications that cause skin photosensitivity for 3 days before your treatment. Don't worry if you're not sure what products these might be; call our office, and we'll personally instruct you before your treatment.
We start all patients on a skincare regimen recommended by our treatment team. This helps to optimize results. Applying a topical retinoid for 4 weeks before your treatment helps prepare your skin for laser treatments. Be sure to use sunscreen daily to help prevent sun damage and burns before treatment. As stated above, we will recommend the appropriate sunscreen as part of your skincare package.
Patients who have a history of fever blisters, shingles, or herpes and who are taking Valtrex must take it 3 days before treatment, on the day of treatment, and 3 days after treatment.
For best results, we recommend not smoking before treatment. This can interfere with the healing process and affect your results.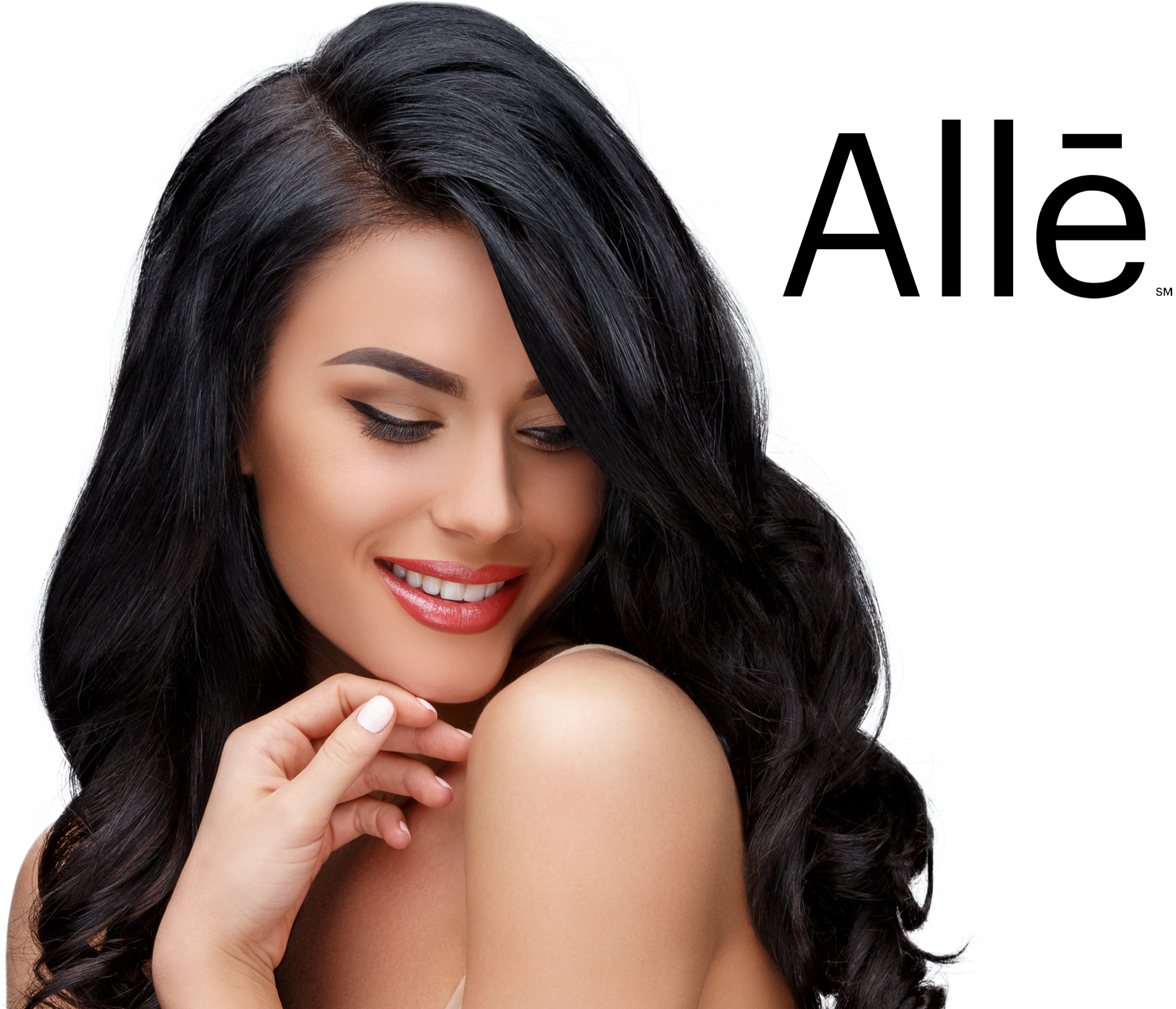 Model
Reward Yourself with Alle™
It's easier than ever to earn discounts on some of your favorite med spa procedures and skincare products when you become a member of our Allē aesthetics rewards program. In addition to saving each time you come in for the most popular Allergan treatments, including BOTOX® Cosmetic, JUVÉDERM®, JUVÉDERM® VOLUMA XC, and SkinMedica® products, Allē members can also earn points on other selected services and products.
How Much Does Laser Skin Resurfacing Cost?
The cost of laser skin resurfacing treatments depends on the laser used, the targeted treatment area, and the number of treatment sessions needed to produce the desired results. When you come in for a consultation, we'll provide specific price quotes based on your customized treatment plan. We also offer various financing options, including PatientFi®, CareCredit®, and Alphaeon® Credit.
These are the starting prices for our procedures, the 6 month no interest* payment calculation, and the 36 month fixed interest payment calculation when you finance using PatientFi.
*If paid in full during promo period.
Prices listed are the starting price and not a guarantee of the cost for your procedure.
| Procedure | Starting Cost | 6 Month No Interest* | 36 Month Fixed Interest |
| --- | --- | --- | --- |
| Level 2 Package: BBL/ MOXI – 2 Sessions | $1,500 | $250 | $46 |
| Level 3 Package: BBL/ MOXI – 2 Sessions | $3,200 | $533 | $99 |
| Level 3 Triple Threat Package: BBL/ HALO/ MOXI – 2 Sessions | $3,500 | $583 | $108 |
"I Want It All" Package
| Procedure | Starting Cost | 6 Month No Interest* | 36 Month Fixed Interest |
| --- | --- | --- | --- |
| Includes a variety of treatments (BOTOX, Fillers, & Lasers) | $6,000 | $1,000 | $185 |
Confidence should never be out of reach. Learn more about our patient-centered financing options.
Post-Treatment Instructions
To achieve the best possible results from your laser treatments, we want to make sure you follow these important instructions to ensure maximum healing with minimal downtime:
Our highly skilled team of nursing professionals and licensed aestheticians is a down-to-earth group of women who share a passion for aesthetics and ensuring you feel comfortable and relaxed at every visit. They are a big part of our #HappyCamper vibe and one of the reasons people trust us to provide the best care possible.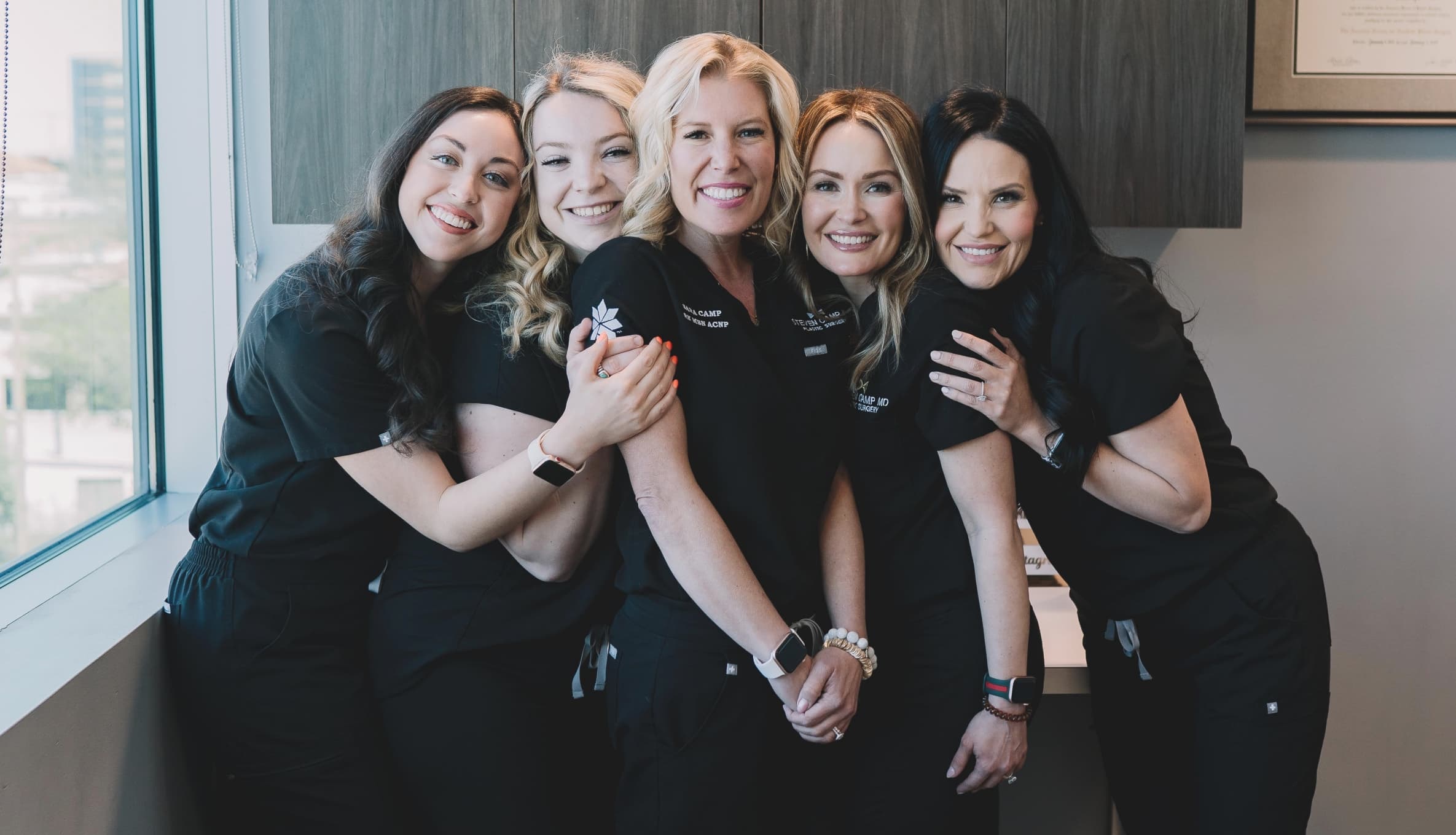 Laser Skin Resurfacing Frequently Asked Questions
How long does it take to recover from laser skin resurfacing?
Patients at our Fort Worth med spa are busy people who often can't take a week or more to recover from laser skin treatments. Our menu of treatment options enables our team to customize procedures based on your preferences, including downtime.
Do laser skin resurfacing treatments hurt?
Patients often compare the sensation felt during laser treatments to a rubber band snapping against the skin. The sensation you experience will depend on the laser used, the treatment area, and the depth of the treatment. A topical numbing agent can be applied if desired to minimize discomfort. We also offer Pro-Nox, a 50/50 nitrous oxide-oxygen combination that you control to help relieve your pain and anxiety during treatments.
Are laser treatments safe for pregnant women?
Yes! Sciton laser skin resurfacing treatments like MOXI and NanoLaserPeel are safe for women who are pregnant. The lasers treat only the uppermost layers of the skin, making them safe for treating hormone-related melasma often associated with pregnancy. Our team of experts will work to ensure your safety and comfort during treatments.
Get Started
If you're looking for laser skin resurfacing in the Fort Worth, TX, area (Abeline, Mansfield, Arlington, etc.), request a consultation to meet with Dr. Camp and the Bowtie Babes using the online form or call us at (817) 228-4315 to schedule an appointment.