Hydrafacial®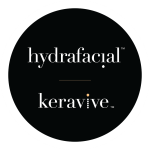 A soothing facial that cleanses, hydrates, and moisturizes while removing dead skin cells and extracting impurities? Yes, please. HydraFacial treatments at our Fort Worth, TX, practice are extremely popular because they're designed for all skin types—even patients with the most sensitive skin. You'll see immediate results from this non-invasive procedure, which leaves skin radiant, refreshed, and vibrant.
What Is HydraFacial?
What sets HydraFacial apart from the numerous other treatments that promise a refreshed and rejuvenated complexion? The procedure uses a patented technology called Vortex-Fusion, a system designed to exfoliate, extract, and hydrate skin using vacuum technology combined with serum infusions. The HydroPeel® Tips used during the treatment have a spiral design that creates a vortex effect to simultaneously extract impurities and deliver hydrating solutions without discomfort.
Not only do HydraFacial treatments nourish the skin, but they also address any combination of these skin conditions:
Wrinkles and fine lines
Enlarged and clogged pores
Rough, dry, or oily texture
Uneven coloring and brown spots
Acne and acne scars
Following a HydraFacial procedure, skin is firmer with improved tone and texture. It's an excellent choice for patients who don't necessarily have specific skin concerns but just want to breathe new life into their complexions.
Schedule at Steven Camp MD Plastic Surgery & Aesthetics with the Bowtie Babes
It's never been easier to schedule an appointment for skincare treatments, a VISIA skincare analysis, and consultations for CoolSculpting and CoolTone provided by our aesthetic specialists Lindsay, Angela, and Crystal.
Schedule your Appointment
How Is a HydraFacial Treatment Performed?
Patients considering aesthetic treatments such as HydraFacial travel from Mansfield and throughout the Fort Worth area because of our reputation for personalized patient care. When you come in for a HydraFacial, a member of our Bowtie Babes team of aesthetic professionals will discuss your specific skin concerns, examine your skin, and customize the treatment based on your individual needs.
The HydraFacial system includes a multipurpose handpiece the aesthetician uses to perform the 3-step treatment:
Step 1: Deep cleansing and gentle exfoliating to lift away dull, dead skin cells and maximize absorption of other ingredients.
Step 2: Exfoliating with a gentle glycolic and salicylic acid peel to improve texture and increase radiance.
Step 3: Clearing pores with a specialized vacuum tool for pain-free extractions without squeezing.
At this point, the skin is ideally suited for absorbing a serum infused with antioxidants, peptides, and hyaluronic acid to enhance its elasticity and hydration. We may recommend a "booster" serum that addresses specific skin concerns. Nourishing the skin immediately after the treatment is more effective than applying a serum after returning home.
A HydraFacial treatment can take as little as 30 minutes, and there is no downtime involved. You can apply makeup and return to work or any other activity immediately after your appointment.
How Long Do HydraFacial Results Last?
Most of our patients notice their skin is more radiant and smoother after one treatment. Your skin will remain hydrated and refreshed for a week or even longer after the HydraFacial treatment. Scheduling monthly treatment sessions, combined with an effective daily skincare regimen, can keep your skin looking and feeling healthy throughout the year. You can also combine a HydraFacial treatment with dermal filler or BOTOX® Cosmetic injections for comprehensive results.
Is It Safe?
Yes, HydraFacial is a very mild treatment, designed to treat all skin types for people of all ages. It is even safe for use on pregnant women. This treatment is ideal for people with sensitive skin and mild skin concerns. Our team of experts is specially trained in performing HydraFacial to ensure your safety and comfort during treatment.
A Reputation Built on Results
Angela is amazing! She made me look 10years younger. But most of all she listens to get the best results....
I cannot say enough good things about my experience at Dr. Camp's office. It was my first time getting...
All the great reviews you see here are absolutely true ! That is how I found Dr. Camp he truly is an...
This was my first procedure - results exceeded all expectations This was my first procedure and the...
Get Started
To learn if you are a good candidate for this 3-in-1 nourishing skin treatment, request a consultation at our Fort Worth office to meet with one of our experienced providers. Or call our office at (817) 228-4315 to schedule an appointment.
Back to Top