Our Staff
When you are looking for plastic surgeons in Fort Worth, Texas, it's important to remember that you're choosing a plastic surgery practice, as well. At Camp Plastic Surgery, you'll be cared for by a team of knowledgeable and friendly professionals who will welcome you into the #HappyCamper family. Our staff creates a relaxed efficiency that helps patients feel cared for, comfortable, and never rushed.
If you are considering aesthetic enhancement and want to learn more about board-certified plastic surgeon Dr. Steven Camp and his staff, request a consultation using the online form. You can also call our office at (817) 228-4315 to schedule an appointment.
Kelly Risser, Patient Care Coordinator
Kelly has over 5 years of cosmetic surgery experience primarily serving as a Surgical Coordinator-her gift of collaboration and attention to detail allow her to shine as Dr. Camp's right hand man!  She joined our team after years of experience as a surgical coordinator and office manager having been instrumental in opening a solo practitioner practice. She is well versed in many aspects of cosmetic surgery and what she doesn't know, she picks up quickly! Patients say she has a gift for being a good listener and having a caring spirit. She loves building relationships and being a part of the journey that patients find themselves on. It is her passion to care for, listen to and aid in patient care. She feels it a blessing to be a part of Steven Camp Plastic Surgery and that her joining the team is an incredibly humbling example of the Lord's favor and timing.
Kelly is a native Texan, born and raised in Corpus Christi. She moved to Oklahoma her senior year of high school where she met her best friend and husband Stephen. She attended the University of Oklahoma and is a big fan of the Sooners!! She earned her Bachelors of Science degree from the University of Central Oklahoma with a Major in Family Relations and Child Development. This serves her well as she is the mother of five! She and her husband Stephen enjoy the gifts, joys, and uniqueness of their children Tanner, Laney, Amy, Riley and Emaline ranging from 13 to 24 years old.
When she is not at the office, Kelly and Stephen make it a priority to have weekly date nights (or date days!), while mixing in their children's activities…. spreading their time (and $$) supporting OU (Boomer Sooner!!), National Charity League-Keller Chapter, the Keller High Swim/Water Polo Team and Champion Cheer Allstars-Southlake. Their kiddos keep them busy and they love every minute of it! Kelly enjoys spending time with extended family who all live in the DFW area, pool time in their backyard, reading, gardening and get-togethers with friends.
OrangeTwist & The Browtini Bar
Dr. Steven Camp is proud to be the co-owner and medical director of Camp Plastic Surgery's OrangeTwist Med Spa location and the Browtini Bar in Fort Worth. Discover your new go-to spots for nonsurgical aesthetics, from fat reduction and wrinkle treatments to eyebrow sculpting and premium skincare.
Sara Camp, Business & Marketing Director and Nurse Injector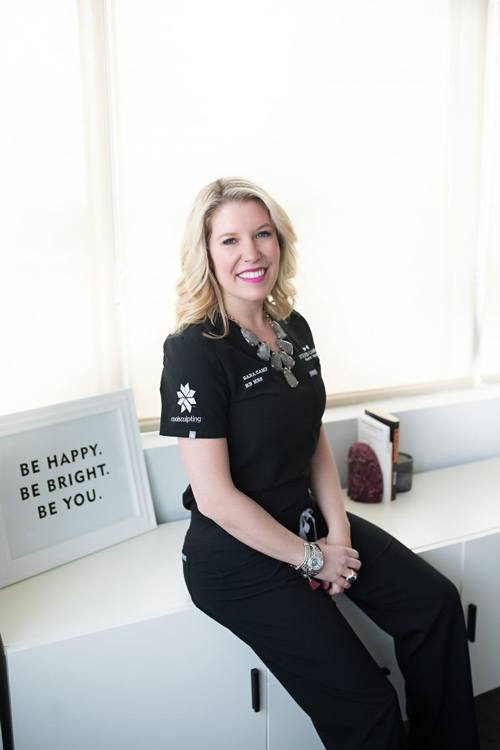 Sara is an accomplished nurse with a master's degree from the University of Pennsylvania. Even though she keeps Dr. Camp's business humming as the business and marketing director, Sara keeps her nursing skills sharp by supporting him in clinical procedures, including CoolSculpting®, ThermiVa®, and injectable treatments such as BOTOX® Cosmetic and dermal fillers.
A Fort Worth native, Sara returned home after spending much of her adult life in Southern California, Kansas City, Philadelphia, Utah, and North Carolina (which is where she and Dr. Camp met.) She earned her bachelor's degree in nursing from Texas Christian University (TCU) and still proudly cheers for her beloved Horned Frogs. Sara then worked in the cardiac surgical intensive care unit at Duke University Medical Center before pursuing her master's degree.
She spent 5 years working as an acute care nurse practitioner in the ICU of Carolinas Medical Center, focusing on optimizing surgical outcomes for the most serious cardiac surgery patients. In addition to quality improvement, Sara spent much of her time on clinical research and education. It was during this time that she met Dr. Camp, who was completing his surgical residency. The couple married 2 years later and moved to Salt Lake City, Utah, where Dr. Camp completed plastic surgery fellowship training at the University of Utah.
More recently, Sara worked for the American Heart Association as the National Director of Corporate Relations, Research, and Marketing. This job combined Sara's unique talents. After moving to Southern California, where Dr. Camp completed a prestigious aesthetic fellowship, the Camps moved to Fort Worth as Dr. Camp began his career in private practice.
The Camps love raising their 2 children, Zoe and Winston, in Fort Worth and are active in the community. When Sara isn't at the office, she loves playing tennis, keeping active, hanging out with friends and their kids, and interior design. She supports local businesses whenever possible and promotes them through Dr. Camp's social media platforms.
---
Liz Nelson, Nurse Injector/Aesthetic Coordinator
Liz is one of our team's Registered Nurses, Master Level injectors, and certified laser specialists and CoolSculpting providers. She has 10 plus years of medical experience with over 8 years as a Registered Nurse, most of which was in pediatric trauma and emergency care. She was trained by Dr. Camp and Master level product trainers and holds continuing education with local and global experts at high priority for improving her skills. Liz's goal is to provide safe and effective treatments that produce natural-looking results. She wants her clients to feel at ease during their treatments and loves helping them feel beautiful and confident.
Liz is the mastermind behind the Bowtie Babes! Liz manages our Camp Bowtie Babes Instagram account and is always posting information and education about our practice, procedures, promotions and in office shenanigans. She is the creative force behind so much that you see in the office and online. Liz is always making sure something new is happening in our office between collaborations with our office and local businesses or facilitating fun patient events and promotions. Our patients are loyal Liz fans on social media and as having her as their aesthetic nurse. From their first visit they feel like Liz is a long-time friend. She makes patients feel comfortable and provides easy to understand education on products and procedures we offer. Once patients have treatment with Liz they are forever Happy Campers, as she has such a creative talent and skill with all that she does in office.
Outside of work, Liz enjoys time with her husband and 2 little girls, ages 7 & 3. We refer to Liz as "The Fort Worth Fan Girl" because of her loyal support to local businesses via shopping and social media promotion. Look for her on Instagram at @fwlizdiane. It is all things beauty, fitness, fashion, life, family, faith, and of course FORT WORTH! We are so proud to have such a well respected social media influencer as part of our team!
---
Angela Negron, Nurse Practitioner 
Angela is an experienced nurse and nurse practitioner. She began her nursing career in the ER and worked at a trauma facility for 7 years. During her time in the ER she realized she wanted to help patients in a more advanced capacity and decided to pursue her master's degree to become a nurse practitioner. She completed her studies and graduated from the University of Texas at Arlington and became a board-certified Family Nurse Practitioner.
While completing her clinical requirements, she became highly involved in aesthetics. She is trained to perform BOTOX® Cosmetic, DYSPORT®, dermal fillers, CoolSculpting®, radio frequency treatments, photo facials, and more! She comes to our office from a medical aesthetics practice in Colleyville, TX.
Angela is married and has 2 boys. When not helping clients with their glow up, Angela loves to workout, be active outdoors, and spend time with her family.
---
Kristen Montgomery, Non-Surgical Patient Coordinator 
Kristen is our Non-Surgical Patient Coordinator with over 7 years of providing exceptional patient care. She is committed to ensuring that our patients have the most comfortable and positive experience possible in our practice.
She is truly a people person and loves developing relationships with patients and witnessing their amazing transformations! Kristen is very happy to be a part of the team and she strives to help patients and provide them with the best care that they deserve.
In her free time, she enjoys listening to live music, exploring outdoor activities with her friends and loved ones, and snuggling with her fur babies!
---
Becky Dukes, Front Office Manager
Becky is Steven Camp MD Plastic Surgery's Front Office Manager, and she has settled into the office seamlessly. Before starting her career in plastic surgery, Becky worked in an orthodontic office for 18 years as a treatment assistant and front office coordinator. In both the orthodontics and plastic surgery industries, Becky loves the way she is able to build relationships with patients over the years and witness the dramatic changes in their appearance and self-esteem.
Becky feels that God has had his hand in every event leading up to her joining Dr. Camp's team, and says she has no doubt that Dr. Camp's office is where she is supposed to be. She loves serving others, whether they're co-workers, patients, family or friends, and brings this service mentality to the office every day. All our patients will say that Becky makes a point to brighten their day each time they are in the office. She ensures that they are Happy Campers, both before and after any procedures or treatments. In addition to brightening her patients' days, she has a true team-oriented personality and helps everyone in the office in immeasurable ways.
Outside of the office, Becky enjoys spending time with her 3 children, Courtney, Brittany and Ryder. Becky was born and raised in West Fort Worth, and her parents still live in the area. She loves spending time at their house and playing games at the kitchen table when her daughters and sisters are in town. Becky really looks forward to her annual girl vacation that her mom, two sisters, two daughters, and one niece take. To unwind after work and on the weekends, she likes to relax in her hammock on her back porch. Becky loves to attend live musicals at local theaters and watch historical fiction TV shows and movies.
Patient-Centered Financing
Apply online and find out if you're approved instantly. Don't wait to schedule your procedure with confidence.
Apply Today
Back to Top