BOTOX® Cosmetic
In Fort Worth, Texas, BOTOX Cosmetic is the go-to anti-wrinkle treatment, just as it is worldwide. Women and men concerned about forehead wrinkles, crow's feet, and the "worry lines" that develop between the eyes can soften those lines with these quick injections. Dr. Steven Camp, as a board-certified plastic surgeon and Allergan injectables trainer, and Angela Negron, Nurse Practitioner, our licensed nurse injector, understand facial anatomy and the precision required for BOTOX to give our patients from Mansfield, Arlington, and other nearby areas a more youthful appearance that still looks natural.
How Does BOTOX Work?
Many people often lump BOTOX in with dermal fillers, and it's easy to see why. These products are both injectable wrinkle smoothers, but the similarities end there. BOTOX works by blocking nerve signals where it's administered, preventing the muscle movements that cause certain types of wrinkles to form. This is why BOTOX is indicated for wrinkles related to movement—specifically crow's feet and forehead lines. BOTOX only affects the muscles exactly where it's injected, and you'll be able to make your normal range of expressions after treatment. On the other hand, fillers work by filling in lines and wrinkles with a soft gel that feels like natural tissue—often hyaluronic acid-based. Both products offer temporary (although quite long-lasting) results and don't typically require any downtime. Some patients may also benefit from Forever Young BBL™ photorejuvenation treatments, a light-based procedure that addresses sun damage and other skin concerns without downtime.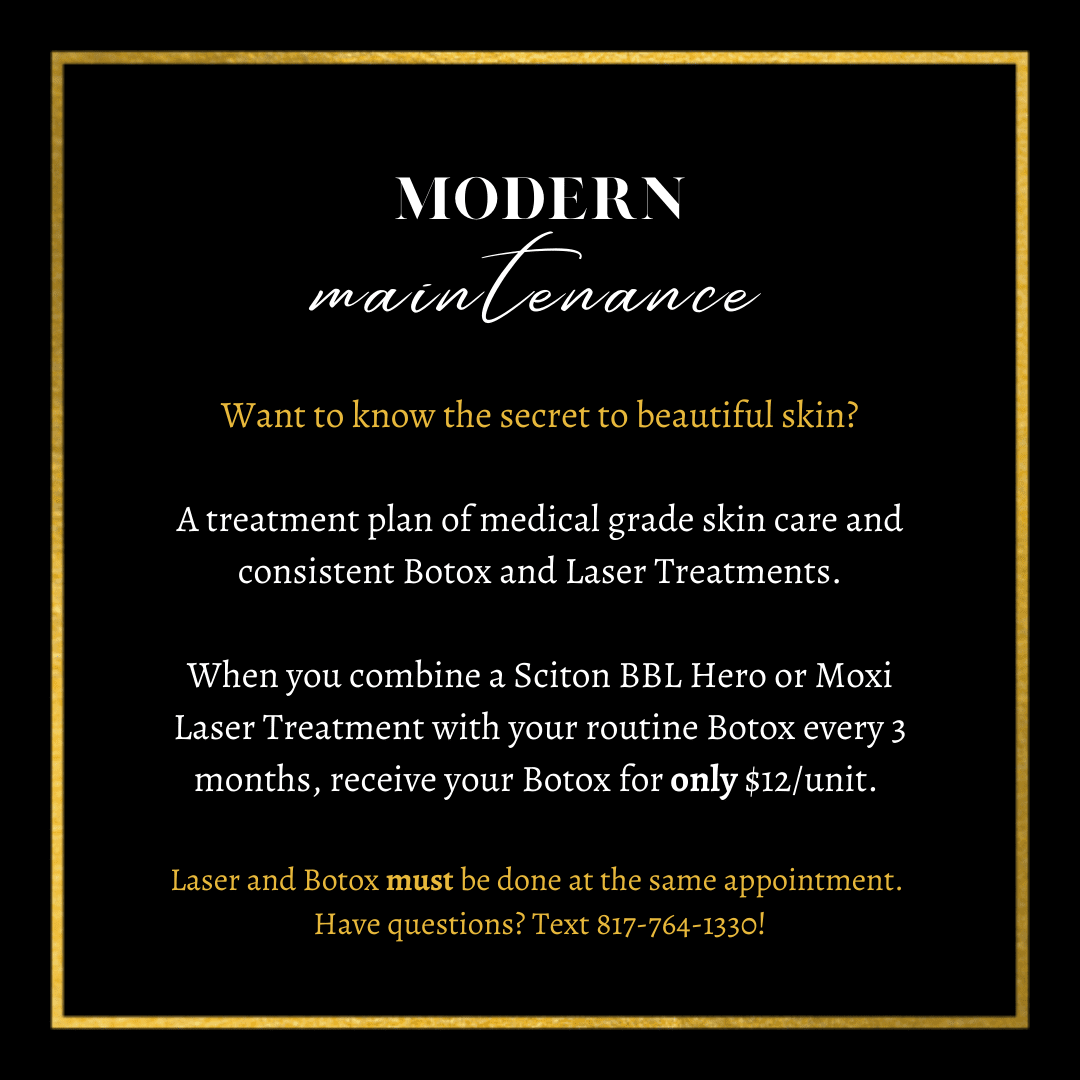 What Happens During a BOTOX Treatment?
BOTOX injections aren't one-size-fits-all procedures. Even though it's a nonsurgical treatment, Dr. Camp or our nurse injector takes the time needed to carefully evaluate your skin tone and the facial muscle and tissue that support the skin. This helps determine if you're a good candidate for injectable treatments such as BOTOX and dermal fillers.
Our nurse injector or Dr. Camp asks about your cosmetic concerns and the kind of results you are hoping to see after getting BOTOX. This type of honest discussion helps ensure that our staff and our patients agree about the treatment plan and if it's the right approach to meet their cosmetic goals. They may recommend complementary skincare treatments to enhance the results of your BOTOX injections.
Your BOTOX Timeline
3 Days Before
Avoid alcohol, green tea, fish oil supplements, NSAIDs, and
blood thinners
2 Days Before
Take Valtrex® if you get cold sores
---
24 Hours After
Avoid strenuous exercise, heat exposure, and alcohol
3 Days After
Continue avoiding blood thinners and keep using Valtrex
7 to 10 Days After
Schedule your follow-up appointment to assess your results
How Soon Will I See BOTOX Results?
The time it takes to see the results of BOTOX injections varies from patient to patient, but typically you should notice changes 7 days following the treatment.
We schedule appointments with BOTOX patients about 10 to 14 days after the procedure to observe the results and determine if they need additional injections to meet their goals. We also encourage patients with questions or concerns to contact our practice at any time.
Choosing the Best BOTOX Injector
An experienced injector uses BOTOX to create a relaxed, youthful appearance that avoids the unnatural frozen expression that can result with a less skilled injector. Dr. Camp's nurse injector always has your best interest in mind and explains the injection technique we use in a way that makes you feel comfortable with the treatment. Our goal is to ensure you understand the injection plan we've created to treat your specific concerns and that any questions you may have are answered. The number of injections needed depends on many factors, including your concerns and the area being treated. Most patients tolerate the treatment well. We offer several techniques to keep you comfortable during your treatment, from topical anesthesia to a stress ball to squeeze. The procedure is brief, and we'll have you on your way in about 30 minutes.
To help relieve the pain associated with the injection and to help relieve anxiety, we offer Pro-Nox Nitrous Oxide system to allow patients to control the amount of nitrous oxide administered.
How Much Does BOTOX Cost in Fort Worth?
BOTOX prices at our Fort Worth practice depend on several factors. These include the treatment area, how many units of BOTOX are needed to produce the desired results, and the injector's training and expertise. We offer competitive BOTOX pricing at our practice. To avoid unwanted results or complications, it's important not to shop for "bargain" BOTOX injections.
What Happens During BOTOX Recovery?
Some mild swelling and redness at the injection sites is common immediately after getting BOTOX injections, but you can return to work or resume your normal activities when you leave our office.
*Be sure to read and follow our post-treatment instructions to ensure you achieve an optimal result.
Reward Yourself With Alle™
It's easier than ever to earn discounts on some of your favorite med spa procedures and skincare products when you become a member of our Allē aesthetics rewards program. In addition to saving each time you come in for the most popular Allergan treatments, including BOTOX® Cosmetic, JUVÉDERM®, JUVÉDERM® VOLUMA XC, and SkinMedica® products, Allē members can also earn points on other selected services and products
A Reputation Built on Results
You deserve the highest caliber of service, care, and results, and at Steven Camp MD Plastic Surgery, we're committed to providing all that and more. But don't take our word for it—see for yourself what our actual patients have to say about their experiences with us.
Read More Patient Reviews
Patient-Centered Financing
Apply online and find out if you're approved instantly. Don't wait to schedule your procedure with confidence.
Apply Today
Check out these real patient results! 
Paige and Jeni, bloggers from Style Duplicated, recently stopped by Camp Plastic Surgery. They shared their experience getting BOTOX injections for wrinkles and skin texture improvement with our expert nurse injectors on their blog.
Discuss your aesthetic treatment options with our team by requesting a consultation using the online form, or call our office at (817) 228-4315 to schedule an appointment.
Also, Tony Green from Hello I'm Tony Green came to Dr. Camp's office for a customized BOTOX treatment! Check it out!
Click here to buy ZO Skin Health Products
Back to Top