Forever Young BBL™ Photorejuvenation
Improving the appearance of sun-damaged skin without downtime is possible with Forever Young BBL Photorejuvenation at our Fort Worth, TX, practice. Forever Young is a light-based treatment that helps people from Mansfield, Arlington, and other nearby communities address a range of skin conditions by targeting the skin's deeper layers. Dr. Camp is a trusted BBL provider and Sciton Illuminarie who presents and speaks about BBL skin treatments on behalf of Sciton.
How Does Forever Young BBL Work?
We use this light-based treatment to minimize redness, blood vessels, scars, and brown spots and to smooth uneven skin texture. The procedure works by targeting treatment areas with rapid pulses of broadband light, which gently warms the skin's outer layers. Deeper layer of skin absorb the heat, triggering the production of new collagen.
Your Forever Young BBL Timeline
Before Treatment
Protect your skin from the sun for 4 weeks before your BBL procedure.
---
24 Hours After
Skin may appear red or swollen and feel like a mild sunburn. Apply ice packs to minimize swelling. Strictly avoid any sun exposure.
3 Days After
Avoid sun exposure and use a sun block with a protection factor of 30+, reapplying every 2 hours. Treated pigmented skin may become darker and begin flaking.
7 to 10 Days After
Avoid direct sun exposure and continue using and reapplying sun block. Expect dark, scaly areas to begin falling off.
What Happens During a Forever Young BBL Treatment?
Forever Young BBL treatments are a gentler alternative to intense pulsed light (IPL) procedures that can still turn back the clock on signs of aging with no downtime and minimal discomfort. The procedure can be customized to address specific skin concerns. The system uses infrared invisible light technology to target the lower layers of the skin and work at the molecular level.
Forever Young BBL can create a more youthful and rejuvenated appearance and is recommended for treating:
Rosacea
Vascular redness
Sun damage to the face, chest, back, hands, and arms
Small spider veins
Broken capillaries
Forever Young Before-and-After Photos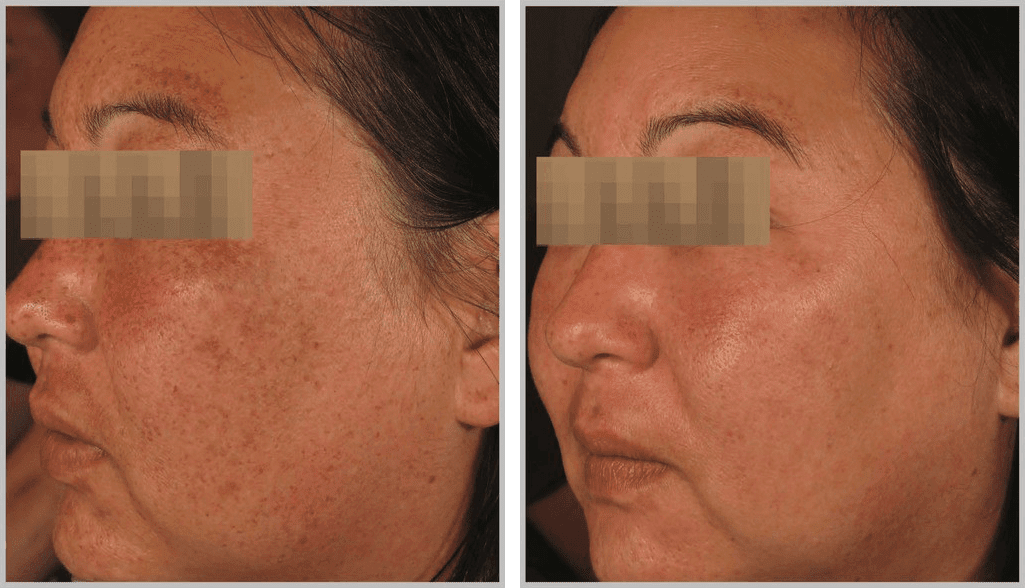 Photos courtesy of Sciton.
Keep in mind that each patient is unique and your results may vary.
When the skin's deeper layers absorb the heat generated during the treatment, it triggers the production of new collagen. Because there is now downtime associated with the procedure, patients generally need an additional 2 to 4 treatments scheduled every 4 weeks to get optimal results. Your procedure may take a few minutes to half an hour depending on the size of the area to be treated and the type of procedure performed.
A Reputation Built on Results
You deserve the highest caliber of service, care, and results, and at Steven Camp MD Plastic Surgery, we're committed to providing all that and more. But don't take our word for it—see for yourself what our actual patients have to say about their experiences with us.
Read More Patient Reviews
You can also ask us about other skin rejuvenation treatments, such as laser skin resurfacing, which may be a better option for your skin concerns.
The best way to determine if you're a good candidate for this nonsurgical treatment is to meet personally with Dr. Camp. Request a consultation using the online form, or call our practice at  (817) 228-4315 to schedule an appointment.
Back to Top