CoolSculpting®
Our Fort Worth, Texas, practice offers CoolSculpting, the popular non-invasive fat reduction treatment, and we can also shrink the time the procedure takes by using 3 machines simultaneously. CoolSculpting is cleared by the FDA to reduce fat in various areas of the body, including the abdomen, the inner and outer thighs, and under the chin.
To learn if you are a good candidate for this nonsurgical liposuction alternative, request a consultation at our Fort Worth office using the online form to meet personally with Dr. Steven Camp. Or call our office at (817) 228-4315 to schedule an appointment.
A Customized Procedure
Dr. Camp listens to the concerns patients describe during their consultation and recommends specific treatment plans based on their discussion. Good candidates for CoolSculpting, who visit from Mansfield, Arlington, and through the Fort Worth area, are at, or near, a healthy weight, but want to reduce areas of stubborn fat. CoolSculpting applicators are designed for specific treatment areas such as the abdomen, under the chin, and inner and outer thighs.
The CoolSculpting machine uses suction to draw the fatty area into the applicator, which consists of 2 cooling panels. These panels deliver targeted cooling to the fat cells, which causes them to freeze without damaging surrounding tissues.
Read about one woman's experience with CoolSculpting at Dr. Camp's practice. This local blogger shares her experience about choosing to have CoolSculpting, the treatment process and her fabulous results!
Come for CoolSculpting, Stay for Netflix
We provide our CoolSculpting patients with a unique environment designed to make your visit a pleasant, enjoyable experience. Our beautiful, private office offers both comfort and relaxation. Many patients enjoy watching our selection of Netflix movies, while others scroll through their tablets or smart phones, read a book, or even take a nap. During your treatment, you can also enjoy a complimentary lunch that we provide.
At the end of the cooling process, a nurse massages the treated area to smooth and soften the chilled fatty tissue.

OrangeTwist & The Browtini Bar
Dr. Steven Camp is proud to be the co-owner and medical director of Camp Plastic Surgery's OrangeTwist Med Spa location and the Browtini Bar in Fort Worth. Discover your new go-to spots for nonsurgical aesthetics, from fat reduction and wrinkle treatments to eyebrow sculpting and premium skincare.
Dr. Camp Is a Top 300 Provider
Dr. Camp and his team have earned the distinction of being named a Top 300 practice by Allergan, the company that makes CoolSculpting as well as BOTOX® Cosmetic, JUVÉDERM®, and many other products. What does it mean?
We have many years of experience and in-depth knowledge performing these treatments.
We are in the top 1% of Allergan providers nationwide.
We are one of the busiest practices Allergan serves in the U.S.
In addition to our title as a Top 300 provider, we have earned the following CoolSculpting distinctions:
CoolSculpting Certified Practice: Our providers have completed rigorous training in all treatment applications and have demonstrated the knowledge and ability to perform the treatment safely and effectively for a variety of patients.
Premier Crystal CoolSculpting Practice: We perform a large number of treatments with consistently excellent results.
Your safety and CoolSculpting results depend on the experience of your provider. As a Top 300 provider, Dr. Camp and team are exceptionally qualified.
What's Better Than DualSculpting? Tri-Sculpting
While DualSculpting involves the use of 2 CoolSculpting machines simultaneously, having 3 CoolSculpting machines is even better. Why? A CoolSculpting treatment takes about an hour per area, which means concerns such as "love handles" require 2 treatments — one for each side. Dr. Camp's practice has 3 CoolSculpting machines on site for treatments in half the total time or less. As the only plastic surgery practice in Fort Worth to offer this option, our patients have the ability to have 3 areas treated at once. For even shorter treatment times, our OrangeTwist Med Spa in Fort Worth offers the option of treatments with 4 CoolSculpting machines.
During your CoolSculpting procedure, you can also schedule other skincare treatments, such as laser skin resurfacing or BOTOX or filler injections.
What is the CoolAdvantage™ Applicator?
Treatment times can be shortened even more with the CoolAdvantage applicator, which can be customized for treating the arms, flanks, abdomen, the inner thighs, or the areas above the knees. Patients tell us the procedures — which take only about 35 minutes, instead of an hour per area — are even more comfortable than previous CoolSculpting treatments.
What is the CoolMini™?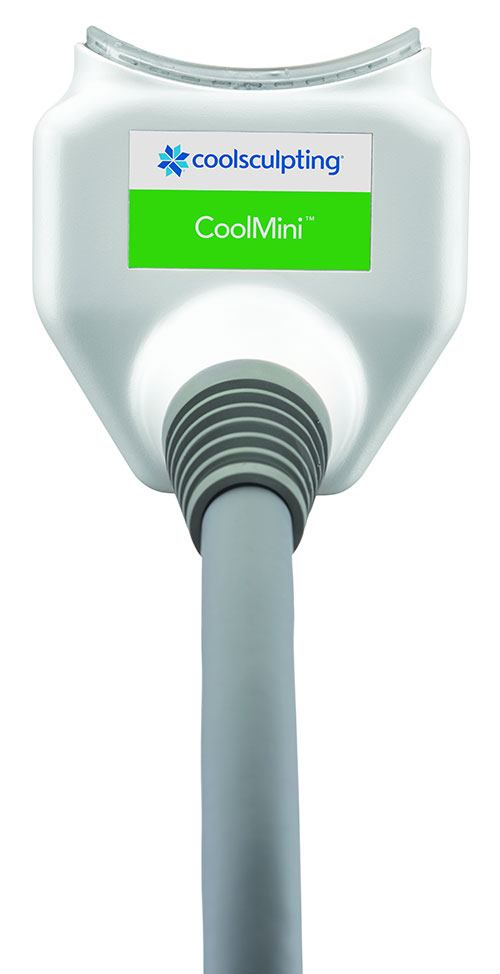 CoolSculpting is versatile enough to address many treatment areas, including fat under the chin, via the CoolMini applicator. The fat in this area causes the appearance of a double chin. For many people, it is an inherited trait and has nothing to do with being overweight. The CoolMini is an excellent treatment option for younger patients whose skin retains most of its elasticity, as the skin will shrink to fit the neck's slimmer contour following a CoolSculpting procedure.
The CoolMini fits snugly under the chin and, like other CoolSculpting treatments, involves virtually no discomfort during the session. If you are concerned about fat below the chin, you may also want to consider KYBELLA® injections.
Advanced Techniques
The clinically proven science behind CoolSculpting is a process called cryolipolysis. It's based on the fact that fat cells freeze at a higher temperature than those of skin and surrounding tissues. Harvard scientists discovered the cryolipolysis process years ago when they observed that children sucking on popsicles had dimpled cheeks. That led to the research resulting in the FDA-cleared CoolSculpting procedure.
Other Fat-Reducing Procedures
Dr. Camp is dedicated to offering patients the most advanced procedures that are clinically proven and provide consistent results. In some cases, patients choose to undergo liposuction because the results are immediate and more customizable.
How Long Does It Take to Recover From CoolSculpting?
There is no downtime following a CoolSculpting treatment, meaning you can return to work or other normal daily activities immediately after leaving our practice. There is usually some redness in the treatment area.
How Long Will It Take to See Results?
Results appear gradually over several weeks as the fat cells die and are naturally absorbed and flushed out of the body. Some patients may see desired results after a single treatment, but in many cases a follow-up treatment is scheduled to achieve optimal results.
Frequently Asked Questions
How much does CoolSculpting cost?
The price of CoolSculpting varies from patient to patient depending on the number and location of treatment areas. The number of treatment sessions, which is usually based on a patient's ultimate goals, will also affect the total CoolSculpting cost. Dr. Camp tailors personalized treatment plans in an effort to meet patients' aesthetic goals and their budgets.
Can I combine CoolSculpting with other treatments?
Yes, we may recommend a treatment package that includes CoolTone™, an innovative procedure that builds and tones muscle, or laser skin tightening.
How long do CoolSculpting results last?
Once fat cells have been frozen and destroyed by CoolSculpting, they are naturally disposed by the body through its natural metabolic process. Those fat cells are gone for good.
So, can I still gain weight after CoolSculpting?
Yes, but it may be distributed more evenly throughout the body. One of the benefits of CoolSculpting is that it often motivates patients to remain at or near their ideal weight through exercise and diet.
What areas of the body does CoolSculpting treat?
The procedure is cleared by the FDA to treat stubborn fat bulges in many areas of the body. Those include submental fat (the area below the chin), upper arms, the area above the knees, the inner and outer thighs, the upper and lower abdominal areas, the flanks (love handles), along with "bra fat," back fat, and fat underneath the buttocks.
Patient-Centered Financing
Apply online and find out if you're approved instantly. Don't wait to schedule your procedure with confidence.
Apply Today
---
1 Zelickson B., Egbert B.M., Preciado J., Allison J., Springer K., Manstein D., Cryolipolysis for Noninvasive Fat Cell Destruction: Initial Results from a Pig Model, Dermatologic Surgery: 2009; 35(10):1462-1470. http://www.ncbi.nlm.nih.gov/pubmed/19614940
Back to Top